Lessons learned from an ultramarathon
This past Saturday, I ran the CanLake 50 with my co-founder Aaron Newman and Troy Betram (GM, Worldwide Public Sector Business Development at AWS). The CanLake 50 is a 50 mile ultramarathon around Canandaigua Lake here in western New York.
Aaron and I had run the race back in October 2011, which was one month before we founded CloudCheckr. After we secured a $50 million funding round from Level Equity in March 2017, we decided to run it again (and I use "we" liberally as the idea, our registration, and our payment was completed exclusively by Aaron). In April, Troy heard our VP of Sales, Elissa Livingston, bragging about us at the AWS Sydney Summit and decided to join in.
The race day weather was not what we hoped for. It started with rain and then heated up into the sticky 80s by midday. We also showed up at the starting line despite a variety of (mostly self-inflicted) encumbrances. These "minor issues" included a distinct lack of training by Aaron and me. We only had time for four training runs, with the first on September 12 — less than a month before the race. In our defense, however, who knew that managing 150-person startup wouldn't leave time for adequate training?
Troy took the opposite training tack from us. He was responsible and prepared from May- July (most ultramarathon guides suggest at least six months of training). However, he then suffered a setback from plantar fasciitis in August, which prevented him from running any significant distance in September. So, while Aaron and I only trained during September, Troy was unable to train during that month.
However, all three of us still successfully completed the race. We also learned a few lessons along the way — lessons that apply both to completing an ultramarathon and launching a successful start-up. Two, in particular, that are worth discussing are the value of perseverance and the importance of teamwork.
When thinking of perseverance, all of us faced uncertainty and doubts around our ability to successfully execute — after all, we were supposed to train for 6 months, not 3.5 weeks, and no one is supposed to run five miles, let alone 50, with plantar fasciitis. As the calendar moved into October, these doubts became louder, with multiple people telling us that the race was a particularly bad idea.
In many ways, this is the same background noise that you will encounter when founding a company. There will be constant questions and doubts around product fit, market opportunity, competition, and, of course, money to pay for it all. Logic will dictate that you are undertaking an endeavor with an extremely low probability of success. The key, however, is to block out the doubts and negativity and stay focused on the task.
We completed the race by controlling what we could. We didn't spend time wondering about "what if we trained better" or "what if the weather was better" or…. Instead we focused on completing the next mile. The same applies to your company. You have to be aware of what others say and do, but you cannot let yourself get distracted. Instead, you need to persevere and stay focused on what you can control: your plan, your product, and your customer interaction. Many people will tell you that you have undertaken an impossible task and are doomed to failure. You, however, need to stick to your plan, stick to completing your task, and keep moving forward. Eventually, you will reach your goal.
The second big lesson was one of teamwork. There is no doubt that we all competed and completed because we were in it together. Aaron and I couldn't back out on each other or Troy. Similarly, Troy wasn't going to back out and let us down. Even Elissa had a stake – after committing us to this ridiculous run she knew that she had better provide assistance! So, on race day, we all helped each other.
Troy's crew had to cancel so Elissa filled in. She prepared his rest stops and provided encouragement and pacing as needed. Aaron and I ran together for the first 35 miles or so. We kept up a constant conversation of encouragement that enabled each of us to block out the agony of the run. After we split later in the race, Troy and Elissa came back to encourage and pace each of us. For Troy, this was after he completed his 50 miles. Did I mention that he is a genuine endurance athlete?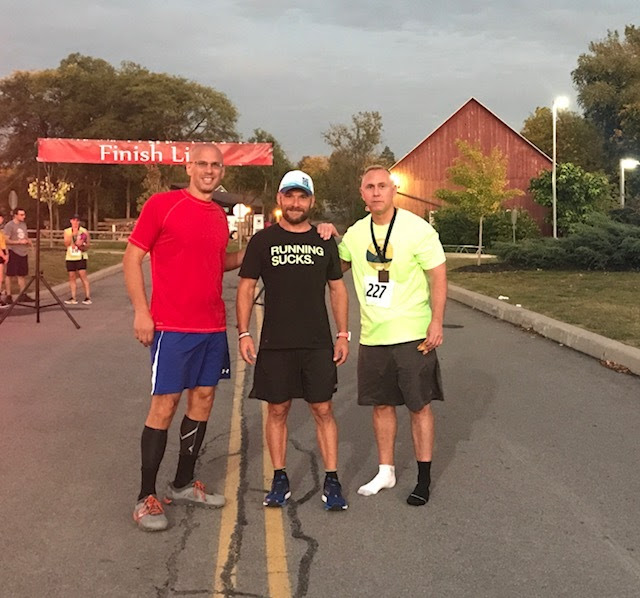 Without their encouragement, Aaron and I wouldn't have completed the race. Without Elissa's support, Troy wouldn't have won the Masters division and finished 3rd for the overall race! In short, we worked as a team to keep ourselves motivated and make each of us better.
This, of course, is the essence of a successful company. Your team needs to coalesce into a tight, self-supporting unit. You also need to recognize that each team member can provide valuable contributions. Building a successful company will require you to keep each other motivated and leverage the talents of your team. There will be highs and lows, but you need to be able to count on each other during both. You will need to work together to harness everyone's capabilities and make everyone better.
So, although I am not advocating that you go run an ultramarathon, I am advocating that you stay focused on your goal and attack it piece by piece. I am advocating that you persevere in the face of adversity. I am also advocating that you focus on building cohesive team. And, finally, I am advocating that you leverage all of your team's talents – including "soft" ones like encouragement and motivation.
Aaron Klein
Founder- COO CloudCheckr