Digital Rochester has announced the finalists for their 2017 GREAT Awards which salutes innovative companies and individuals in Rochester, NY. This year, both CloudCheckr and CEO Aaron Newman have been nominated for their contributions. CloudCheckr was named a finalist in the Emerging Tech Company category and the firm's CEO/Founder Aaron Newman was included in the Technology Leader category. No other firm and CEO has that double-honor distinction.
"We are honored to be recognized, and I'm humbled to be singled out," noted CloudCheckr CEO/Founder Aaron Newman. "CloudCheckr is a team effort and our success is the result of hiring the best people. We are proud to be able to represent Rochester."
Perhaps it should come as no surprise that CloudCheckr is being recognized, after a record-setting year. The firm surpassed 100 employees, broke new ground and eventually moved in to high tech offices in the trendy Village Gate, following a ribbon cutting ceremony with Mayor Lovely Warren. The already profitable startup caught the eye of New York City investor Level Equity, who funneled $50 million into the Rochester-based firm, to spur their growth in the rapidly growing cloud services market.


CloudCheckr is a Software-as-a-Service tool that delivers Cost Management and Security and Compliance tools to enterprises and service providers. One example of the tools that CloudCheckr provides is the S3Checkr.com free tool to help organizations identify cloud storage that is at risk of hacking. CloudCheckr's Cost Management tools help save their customers 30% on average, paying for itself and then some. CloudCheckr delivers on the promise of cost savings and security by moving to the cloud.
The Digital Rochester GREAT Awards will be held from 5-9pm on September 19th, 2017 at the Joseph A. Floreano Rochester Riverside Convention Center.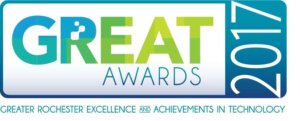 Cloud Resources Delivered
Get free cloud resources delivered to your inbox. Sign up for our newsletter.
Cloud Resources Delivered
Subscribe to our newsletter