Are Government Cloud Services Better for Your Agency Than Managing a Data Center?

More than half of all government data centers have closed in recent years. Why? High operating costs, budget constraints, and obsolescence of equipment are motivating many of these organizations to switch to cloud computing.
You might think that the cloud is only for the private sector, but guess again. Running a data center is an expense that local, state, and federal agencies are struggling to afford as the need for data storage grows. Fortunately, alternatives to government-run data centers exist. Government cloud services can provide cost savings, security features, and computing power that surpass the capabilities of many agency data centers.

What are the advantages and disadvantages of data centers?
What is a data center? A data center is a building or set of buildings that houses an organization's IT equipment, like computer servers. These facilities are where the organization can store, manage, and provide access to its data. 
The main advantage of a data center is that an organization has complete control over where and how their data is stored. This often means that dedicated in-house IT personnel manage the equipment and perform upgrades and maintenance when necessary. 
As a result, however, data centers require significant resources to run smoothly. The equipment must reside in a suitable facility–often a clean room, or dust-free, air-conditioned environment–to ensure that data access will be largely uninterrupted. Many data centers rely on redundancy to back up crucial data, which can be costly and time-consuming to maintain.
Decreased dependency on data centers isn't unique to the public sector. Earlier this year, research firm Gartner predicted that worldwide spending on data centers throughout 2019 would decrease by 2.8% to just $204 billion. The move toward the cloud accounts in part for this shift.

How do government agencies use data centers?
For years, government agencies have been running their own data centers, mainly out of concerns for security and confidentiality. Yet a government data center is costly for an agency to run. These resources must be updated every few years to stay current. The threat of a natural disaster could also wipe out an entire facility; without adequate backups, this can lead to the loss of crucial data. Hackers pose an additional threat when they gain access to entire on-premises databases, where they can compromise military operations and other confidential information.
In April 2019, the United States Government Accountability Office (GAO) released a report on the Office of Management and Budget's Data Center Optimization Initiative (DCOI) to examine the efficiency of federal data centers across the nation. The report analyzed the progress agencies were making toward consolidating their data centers and moving to the cloud. 
Overall, the report found that many government agencies were failing to meet the goals set forth by oversight agencies regarding cost optimization and data center closures. Further, according to the report, all 24 agencies struggled to meet all five data center optimization targets for  server utilization and automated monitoring, energy metering, power usage effectiveness, facility utilization, and virtualization. Just three agencies had met three out of five of these targets; the rest had achieved just one or fewer of these goals.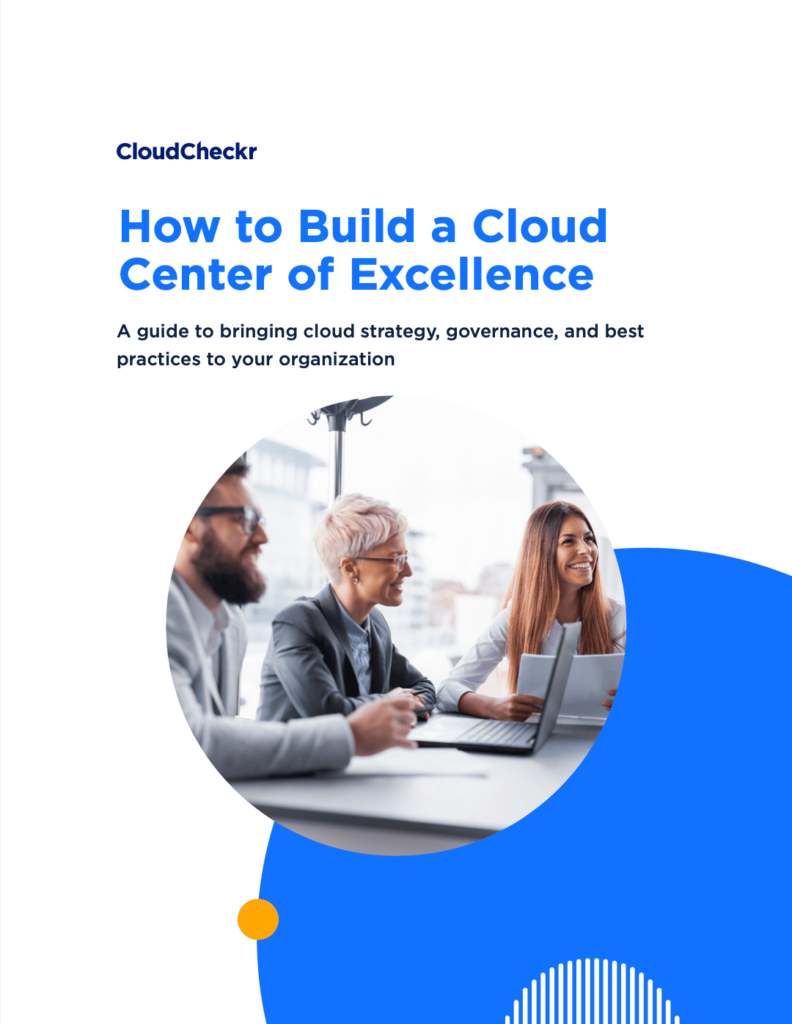 Download our guide How to Build a Cloud Center of Excellence to bring cloud strategy, governance, and best practices to your agency

Most of these government data centers have closed in recent years. The GAO's report counted 12,166 government data centers in the U.S. as of August 2018, but more than half—6,250, to be exact—had closed, and another 1,200 were slated for closure at the time of the report. By consolidating data centers and moving to the cloud, these organizations generated more than $2.37 billion in planned and achieved cost savings between 2016 and 2018 alone. 
So far, the federal government has seen some major successes with cloud adoption. The Social Security Administration, the National Oceanic and Atmospheric Administration (NOAA), and the General Services Agency (GSA) have all partially or fully moved to the cloud. Others have focused on optimization and efficiency, like the Department of Agriculture, which closed 2,253 data centers, and the Justice Department, which closed 84 out of 110 data centers.
However, the GAO report found that a total of 4,716 data centers are not planned for closure. Additionally, of the 24 federal agencies included in the study, 11 reported that they did not expect to meet their goals to close or consolidate these facilities. By using the cloud instead, these organizations could reduce their operating costs and see greater computing efficiency as well.

Which government cloud services are available?
While the largest public cloud services are used across industries, these platforms also have solutions tailored specifically to the needs of government agencies. AWS GovCloud and Azure Government are two of the leading government cloud services that can offer significant benefits and added security to local, state, and federal agencies as well as government partners.

AWS GovCloud
AWS has been around longer than Azure and Google Cloud. Today, it offers the largest depth of services across nearly 120 applications for compute, storage, analytics, machine learning, and more. AWS tends to fall short in terms of hybrid cloud strategy, but it is sure to catch up as demand for this service increases.
In addition to GovCloud, AWS also offers air-gapped regions (separate from the public internet) known as Secret Region and Top Secret Region. While Top Secret Region is stored on-premise at three CIA locations, Secret Region is more widely available to agencies outside of the intelligence community. Like Top Secret Region, it is also separate from the rest of the internet for added security.

CloudCheckr secures, manages, and governs the most sensitive cloud environments in the world. Experience our high-security environment offering, hardened to NIST 800-53 standards, to accelerate cloud adoption among financial services, public sector, healthcare, and other regulated industries. 
Azure Government
Azure tends to be the go-to for hybrid cloud options with Azure Stack. This service provides customers with the ability to deploy Azure from a local data center with a shared management portal, code, and APIs. Azure works best with Windows Server and other Microsoft applications but has been gradually extending support to Linux operating systems.
Earlier this year, Microsoft announced that it had built two new government data centers for two new Azure Government Secret Regions. These centers are bringing cloud services to the Department of Defense (DoD), the intelligence community, and U.S. government partners. According to a spokesperson for the company, Microsoft supports nearly 10 million U.S. government cloud users across more than 7,000 agencies.

What benefits do government agencies receive from the cloud?
Government agencies may be tempted to look at the cloud purely as a cost-saving mechanism. However, cloud computing can offer multiple advantages to organizations of all types, including government agencies. 

Enhanced functionality for greater efficiency
Because data centers can only house a finite number of servers, organizations need to know how much storage they require. They also need to plan for the future, either with additional storage capacity or room for eventual expansion. Agencies must also upgrade equipment when it becomes obsolete or, worse, stops functioning altogether.
With the cloud, agencies can scale their use up or down, depending on how much computing power they need. Cloud solutions also improve the effectiveness of an organization by reducing database downtime for maintenance. Agencies can devote more time and resources to their core responsibilities rather than focusing on ever-changing IT needs. Cloud software automatically updates, so they are always up to date with the latest security measures and capabilities. The cloud also provides redundancy, with ample backups to prevent data loss and aid in disaster recovery.

Multiple payment options
When choosing a cloud solution, organizations have several options that help them reduce costs and pay only for what they need. Cloud usage can help reduce or altogether eliminate the expenses of running a data center.
Because government agencies often sign contracts for services, they may be more likely to pay up front. Cloud providers cater to this with up-front payment options to reduce cloud computing costs for an agency. For example, Amazon Elastic Compute Cloud (EC2) Reserved Instances (RIs) provide discounts to customers that pay for the hours they need in advance. This, in turn, lowers the hourly rate of data usage. As a precaution, organizations need to be careful that they are not under-using those RIs and paying too much for data they don't use.
Some organizations prefer to avoid contracts for IT services like the cloud. They may also vary on data usage from month to month or year to year and therefore choose a pay-as-you-go model. But what do they do when they need more data storage? AWS offers spot instances to account for these gaps. A Spot Instance is an unused EC2 instance that AWS makes available for less than the price of an On-Demand instance. Spot Instances, according to Amazon, "are a cost-effective choice if you can be flexible about when your applications run and if your applications can be interrupted." In other words, this may not be a good option for agencies that rely on continual access to their data.
Above all, purchasing decisions should be data-driven and should take both current and future data usage into account. Resources like cloud management platforms (CMPs) can help organizations further optimize costs and find additional savings. 

Additional cloud data security benefits
Public cloud platforms like AWS, Microsoft Azure, and Google Cloud Platform all provide different security benefits. In nearly all instances, though, it is the cloud host's job to monitor security 24/7. Some basic cloud data security benefits include custom user permissions, data encryption, and protection against Distributed Denial of Service (DDoS) attacks.
With the cloud, organizations can determine which responsibilities a cloud provider will handle, such as encryption, firewall configuration, and other features based on available bundles of services. AWS offers multiple cloud architecture options for organizations, depending on the level of responsibility they want to take on when it comes to security. For an added layer of privacy, the AWS and Azure government cloud platforms are separated from the rest of the internet.

Flexible hybrid cloud solutions
Migrating all data to the cloud may not be feasible for an agency. As agencies reduce dependency on data centers alone, hybrid cloud may be the answer for greater capabilities, increased cost savings, and better overall security. 
Hybrid cloud solutions enable agencies to take advantage of public and private cloud services as well as their own on-premise assets. This strategy can have multiple advantages for agencies. They can slowly build out their cloud infrastructure rather than having to invest in a large-scale project up front. This expansion can take place seamlessly, with minimal interruption, and it can provide agencies with additional security features across both cloud and on-premise assets. Combining cloud computing with running a data center gives organizations additional capacity to back up important data.

How can government agencies move to the cloud?
Before choosing a solution, government agencies should consider the goals they have for a project. They should ask questions such as:

Are they looking to consolidate data or shift entirely from on-premise storage to the cloud?

Do they want to use any new applications, such as machine learning, to analyze their data?

With what regulations must they comply regarding data storage and access?

Finally, which government cloud services are right for that agency?

Agencies are no longer stuck with running obsolete and inefficient data centers. Local, state, and federal cloud options bring agencies more ways to access and store data. Advances in cloud computing have made this solution a safer, more cost-effective option than ever before for all types of government agencies. 

Want to optimize your agency's cloud services?
CloudCheckr provides cloud management for cost optimization and improved security within single or multi-cloud environments. Whether you've moved fully to the cloud or are deploying a hybrid cloud solution, CloudCheckr can help you with cost management, security, automation, and compliance.
Want to see what CloudCheckr can do for your agency? Request a demo.
Cloud Insights Delivered
Get cloud insights delivered. Sign up for the newsletter.
Cloud Insight Delivered
Subscribe to our newsletter