Every industry must adhere to certain regulations and standards for data protection, but nowhere is that more important than in highly regulated industries like the public sector. In recent years, more federal, state, and local government agencies as well as higher education institutions have begun migrating some or all of their IT infrastructure to the cloud. Once they do, they need to adhere to regulatory standards around the way they collect, store, manage, access, and analyze data in the cloud.
Achieving and maintaining public sector cloud compliance is part of an organization's ongoing security efforts. However, this is no one-and-done process. First, agencies and institutions need to understand the importance of compliance overall. Next, they should develop a strategy for achieving compliance if they are out of it and maintaining compliance throughout their operations. Finally, they can look into tools that make it easier to manage compliance in the cloud.
What is regulatory compliance?
Regulatory compliance ensures that organizations follow set standards, rules, or laws that an industry, government, or other regulatory body enforces. These regulations might pertain to how organizations collect consumer data, process credit card payments, or protect their private information, to name a few.
Certain industries may have to comply with specific standards around how they handle sensitive data. For example, healthcare providers need to follow HIPAA rules to ensure patient privacy. They may also have to ensure compliance with regional standards depending upon the locations of their user base and customer data they store.
What is cloud compliance, and why is it important?
Cloud computing offers more ways to store, manage, analyze, and access data than in traditional on-premises environments. While the cloud itself is secure, even a single vulnerability left unchecked can result in greater complexities and potential fines later on.
For government agencies and higher education institutions, following standards and regulations in the cloud is absolutely necessary to achieve public sector cloud compliance. The more cloud administrators embrace compliance frameworks, the more secure and reliable the data and transactions in the cloud.
Even organizations well-versed in cloud governance should be able to stay audit-ready at all times. Fines and penalties for noncompliance can be incredibly steep, to the point where they can bankrupt even a large corporation. The average cost of a data breach, according to IBM, was $4 million in 2020, though that number can soar far higher depending on the size and scope of the compromised data. Further, the decrease in consumer or constituent trust is also a detriment to public sector organizations.
Cloud providers like Amazon Web Services (AWS) and Microsoft Azure offer stable and secure foundations that public sector organizations can build on. There is a concept called the Shared Responsibility Model, where cloud vendors offer a physically secure environment, with redundant power, heating, and cooling; physical security including guards and video cameras; and more. These physical locations, like AWS regions and AWS availability zones, meet various regulations.
It would be difficult for any enterprise to attempt to match the capacity of these resources, whether public or private sector. However, what sits on top of that infrastructure is the responsibility of the customer. The end user is responsible for following best practices when it comes to managing passwords, permissions, encryption, firewalls, storage, and traffic, among other aspects of cloud data protection.
In other words, the end user — in this case, a public sector organization — must ensure the integrity of the data in their cloud environment. Using solutions that monitor and help organizations maintain compliance in a cloud environment can prevent headaches and shorten time to audit further down the road.
How do you build a public sector cloud compliance strategy?
Public sector organizations need to consider several factors when shoring up their compliance in the cloud. A compliance program may start with a focus on more severe problems and then expand over time to address other challenges. Whether you have pressing compliance goals to achieve or not, it's never too late to begin paying attention to your cloud compliance.
1. Understand your resource inventory
The first step to ensuring compliance in the cloud is knowing which resources to examine for vulnerabilities and noncompliance.
With the pay-as-you-go nature of the cloud, it's easy for cloud sprawl to take over a once-well maintained IT infrastructure. Not only can all those resources be difficult to manage, but unused and idle resources can drive up costs when they're not properly tracked and shut down. They also pose security risks because they are not being properly monitored.
Ensure that cloud administrators in your organization know what resources they have provisioned and can prove that they are configured with the right permissions to minimize the cloud environment's attack surface.
2. Follow or develop clear compliance frameworks
Next, organizations must determine which standards they need to meet and regulations they need to adhere to. Your organization may not be able to choose which standards it has to meet. There are numerous compliance standards required in the public sector alone, not to mention private sector such as PCI-DSS from the Payment Card Industry. Public Sector organizations may need to comply with one or more of the following: NIST 800-53, NIST 800-171, FY15 FISMA Metrics, DHS CDM Program or IRS Pub1075.
Cloud administrators should have a clear understanding of the industry safeguards they must have in place before and while operating in the cloud. If no clear frameworks have been specified for your organization, then it is up to stakeholders to research cloud compliance for the public sector.
3. Continuously monitor the cloud for compliance and security issues
Compliance in the cloud goes hand-in-hand with security. A cloud management platform can monitor for misconfigurations and vulnerabilities and repair issues when they arise. In many cases, automation capabilities in cloud management platforms can provide security and compliance checks and fixes where possible. 
What cloud compliance solutions are available to the public sector?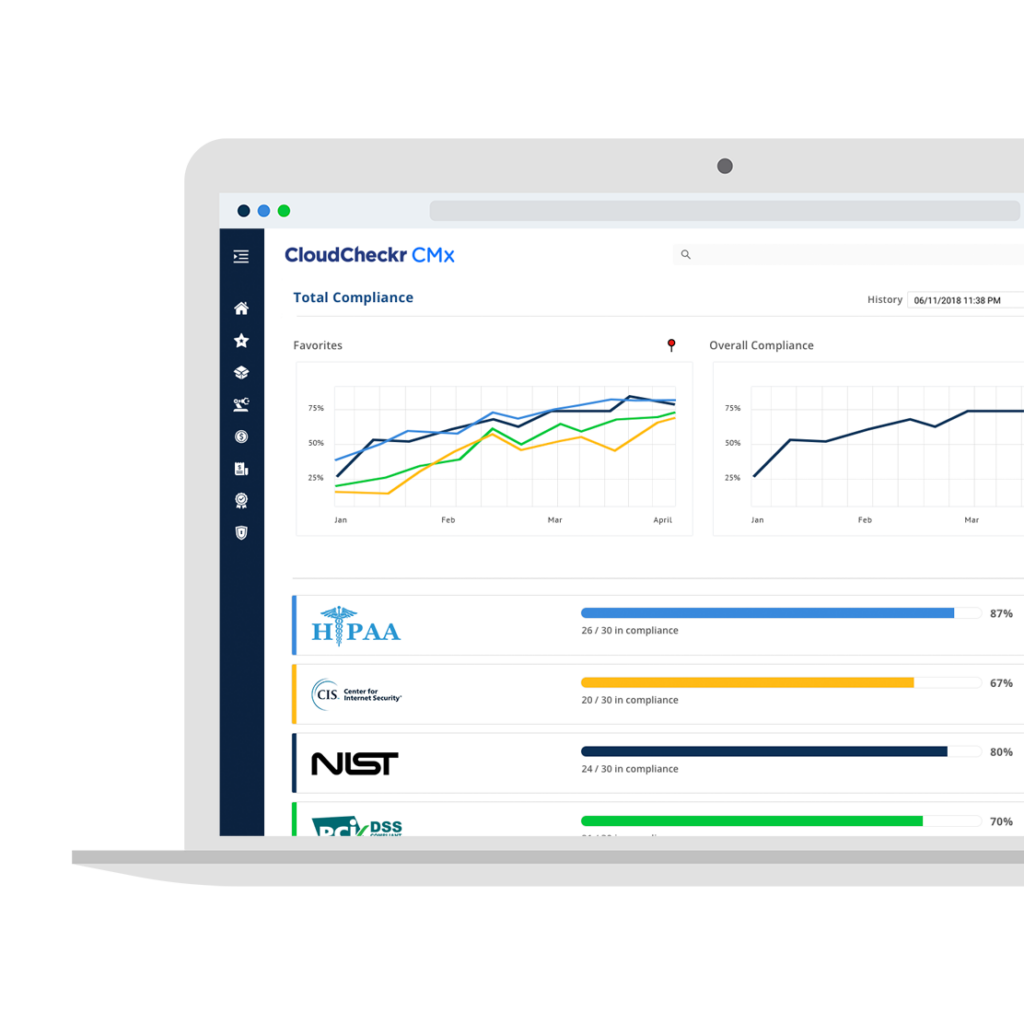 So how can public sector organizations gain a foothold with their cloud compliance challenges? You can take advantage of existing cloud management tools to monitor and ensure your organization follows regulations and best practices.
CloudCheckr is the first and only FedRAMP Ready cloud management platform that offers audit-ready compliance against 35 major regulatory standards. With CloudCheckr CMx Federal, agencies gain total visibility of their resource utilization, security configuration, compliance, and cloud spend in one application.
CloudCheckr's best practice checks — part of the Total Compliance module — can be mapped to various regulatory standards and a "compliance score" can be measured for each of these 35 regulatory standards. An administrator can take advantage of a custom compliance dashboard by picking and choosing the standards that matter most to the organization. Those scores will be plotted over time as they work toward 100% compliance.
Additionally, CloudCheckr's SnapBack feature allows users to go back in time to see a Total Compliance report (along with other prominent reports) as it existed on any date in the past, as far as seven years ago. Those reports are Read-Only to prevent tampering and can prove quite useful in preparation for an audit.
Whether your agency or institution chooses to manage the cloud through a partner or on its own, CloudCheckr has everything you need to ensure compliance with the most rigorous regulatory standards at all times.
Ready to take the next steps in cloud compliance?
Public sector entities often carry the burden of implementing a cloud-first strategy while fulfilling civic objectives within the confines of fixed budgets — all while maintaining strict regulatory compliance. But they don't have to do it alone. Cloud management platforms that include security and compliance functionalities can turn a burden into a no-brainer.
See CloudCheckr's first (and only) FedRAMP Ready cloud management solution in a one-on-one demo.
Cloud Resources Delivered
Get free cloud resources delivered to your inbox. Sign up for our newsletter.
Cloud Resources Delivered
Subscribe to our newsletter