Reducing unnecessary spending is the goal of every business function. But when it comes to cloud computing charges, there are simultaneously more ways to save and more ways to unintentionally drive up costs.
By now, you likely understand the challenges that can come with operating in the cloud. Once you know where the problems are — such as choosing the wrong AWS EC2 instance types or not taking advantage of committed usage discounts — it becomes easier to find solutions.
As a practice, effective cloud financial management (often referred to as FinOps) can make or break your success in the cloud. Here are five steps you can take to gain a deeper understanding of your cloud computing costs and get them under control.
1. Evaluate your CAPEX vs. OPEX spending
Moving to the cloud from on-premises storage can represent a major change for finance departments. The purchase of servers and other data center essentials falls under capital expenditures (CAPEX) in the annual budget. They represent a significant upfront cost of doing business. However, cloud computing charges are billed on an ongoing basis depending upon the resources in use, known as operating expenses (OPEX).
Measuring the return on investment (ROI) of your cloud investment means looking at historical and current spend. How much were you spending on legacy IT systems? Where has the move to the cloud helped the organization save money? If you've implemented new processes around cloud operations, have these helped to streamline costs? You might also examine any indirect ROI from moving to the cloud, such as decreases in downtime and reducing or eliminating hardware maintenance expenses.
While this step may not reduce costs directly, it will give you a clear picture of where you were before your cloud journey. This provides helpful benchmarks as you begin to optimize your costs.
2. Pay attention to tiered pricing
Major cloud providers like AWS and Azure charge based on usage levels. It's entirely possible for businesses to access limited services for free — which is great for trying out new cloud resources without the need for lengthy contracts or commitments.
However, the free tier may not provide enough coverage before you have to pay. Once you move into the paid tier, you may think that the costs aren't all that high — a fraction of a cent here or there. But they can add up very quickly, especially when charged by the hour or the use.
The cloud's business model may get advertised as "pay-as-you-go," but in fact it's more like paying for what you order. You pay for what you provision, regardless of whether it's in use. That means that you can still incur costs if you forget to shut down instances or turn off resources when you don't need them.
There's no way to truly avoid the charges for AWS services once you go past the Free Tier limits. However, there are ways to gain insights into your costs so that you won't spend too much or order more than you need.
3. Compare on-demand pricing vs. paying in advance
Once in the cloud, take a look at the different pricing models and discounts available. Some services you can purchase on-demand when you need them, with no long-term contract. Others, you can pre-pay in order to receive greater discounts.
AWS offers several different types of discounts for committed usage with EC2 purchasing options. For example, AWS lets you make Reserved Instance purchases for EC2 instances in advance for either one or three years. AWS also offers Savings Plans to help you lower your monthly cloud bill by committing to a dollar spend, hour-by-hour, as opposed to specific instance types, also for a term of one or three years. Costs may vary based on the EC2 instance types you purchase, so it's important to review the use cases that AWS outlines for each type.
Purchasing cloud services on-demand is appropriate when new business needs arise. However, when developing an annual budget, planning ahead with Reserved Instance purchases and Savings Plans can result in lower cloud costs in the long run.
4. Understand the "hidden" costs for each service you use
It's easy to underestimate the costs for cloud services. Organizations using a variety of services have several distinct pricing models to keep in mind. Therefore, it's easy for certain cloud computing charges to slip through the cracks.
The cost of running a single resource can become extraordinarily high depending on usage rates. That's what happened for Azure reseller Altron Karabina. When they first implemented CloudCheckr, they noticed spiking costs after running small internal batch files — about $500 each time. Not only did they spot the problem with CloudCheckr, but they were able to make adjustments. Now the same process costs just $37 each time.
Some services are also associated with others, like elastic IP addresses for every EC2 instance you run. You can maintain elastic IP free tier costs assuming you only have one per instance, the instance it's associated with is running, and that it meets other criteria from AWS. However, if you haven't shut off the instance or have more than one associated with the instance, you may incur additional elastic IP costs.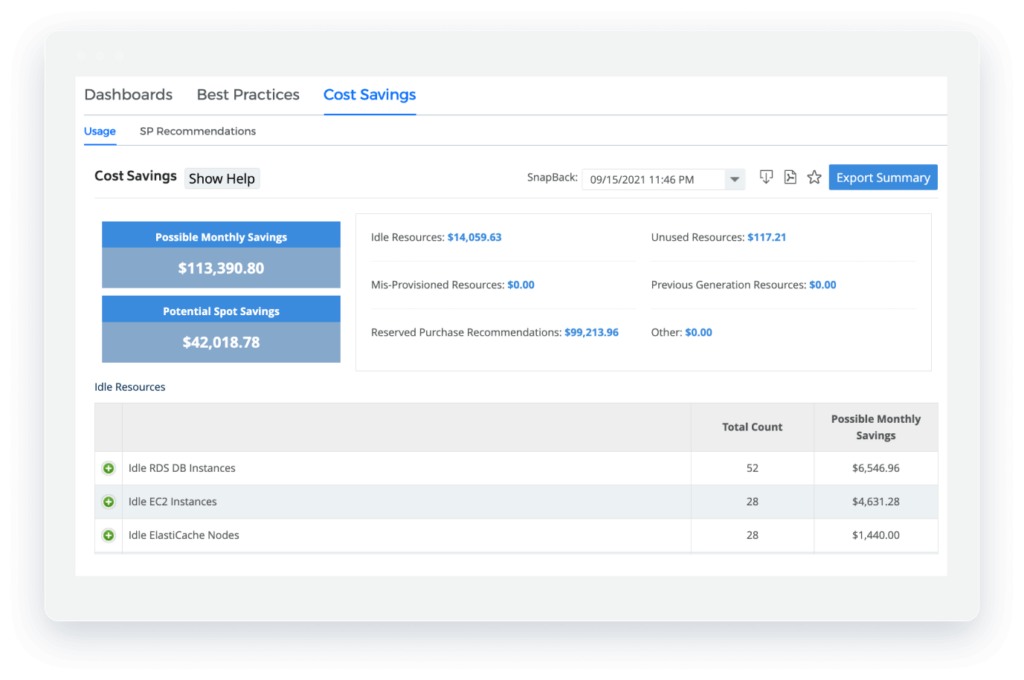 5. Deploy cloud management tools
When it comes to cloud cost optimization, it's difficult to do it all on your own. Your organization may choose to deploy a cloud management platform alongside native tools to get the most out of your cloud investment.
This helps you to observe the limits in place for your AWS account. Each account has a default limit for the number of resources per region — such as EC2 instances, DynamoDB read capacity units, and server certificates within IAM. When you reach the limit, you either need to remove the existing resources or submit a limit increase to AWS Support. Because the limit increase needs a day or two to take effect, you need to closely monitor your service limits to ensure that everything functions correctly. 
With a cloud management platform, you can set budget alerts by percentage or dollar amount, so that you can stay aware of costs and spending limits at all times. In CloudCheckr CMx, you can customize limit parameters for a variety of services, including elastic IP addresses in AWS, to control cloud computing charges and understand when you're approaching a service limit.
Understanding and optimizing your cloud computing charges
Controlling your cloud computing charges requires more than a one-time analysis of your costs. Using a cloud management platform can help you review and reduce your cloud spend.
Want to learn more about optimizing your cloud costs? Get a free cloud management assessment. This free 600-point evaluation of your cloud environment will help you uncover opportunities to reduce spend, improve security, identify compliance gaps and enhance cloud visibility and management.
Get the Cloud Check Up, only from CloudCheckr today.
Cloud Resources Delivered
Get free cloud resources delivered to your inbox. Sign up for our newsletter.
Cloud Resources Delivered
Subscribe to our newsletter