This event took place in 2018 and is now over. Please see our event page for AWS reinvent 2019 and find us at the show this year!
*All dates noted here are in reference to 2018 and do not reflect this year's conference. 
What is AWS re:Invent?
Re:Invent is the annual learning and collaboration conference produced by Amazon Web Services (AWS) in Las Vegas, Nevada. This year* it starts on Monday, November 26th, and lasts through Friday, November 30th. Things kick off on Monday with hackathons, training, and certifications. It then goes Tuesday through Friday afternoon with days full of keynotes, learning, lectures, labs, extracurriculars, and so on. Of particular interest to me is the Expo show floor, since I am in charge of CloudCheckr's events. If you don't have your tickets yet, get them now—AWS re:Invent sells out every year, which is common for Amazon Web Service conferences.
This will be my third re:Invent and CloudCheckr is a premier partner yet again this year, I'm stoked! Last year, CloudCheckr was named AWS re:Invent Sponsor of the Year! This was an incredible honor and representative of how great a relationship we have with AWS.
Whether you're a conference veteran or a newbie, it's easy to have your own successful re:Invent experience. To get you started, here's my best advice pulled from previous conferences.
General Expectations for re:Invent 2018
AWS re:Invent 2018 includes four-and-a-half days of content across six venues in Las Vegas, with an estimated attendance of 50,000 people. There are over 1,000 sessions to choose from that are either a traditional lecture format, a workshop, or an open forum discussion. In addition to those sessions, there are full and half-day bootcamps, self-paced labs, plus an assortment of extracurriculars like pub crawls, fitness events, parties, and more.
You can expect to learn a lot by attending sessions and networking with the AWS community of staff, partners, and expert users. You will gain a deeper knowledge about AWS and best practices for making the most of your Amazon Web Services investment. If you're already certified by AWS, you can take advantage of their Certification Lounge for members only, and if you're not yet certified, they have testing opportunities, so you can be certified before the next AWS Conference and definitely in time for AWS re:Invent 2019!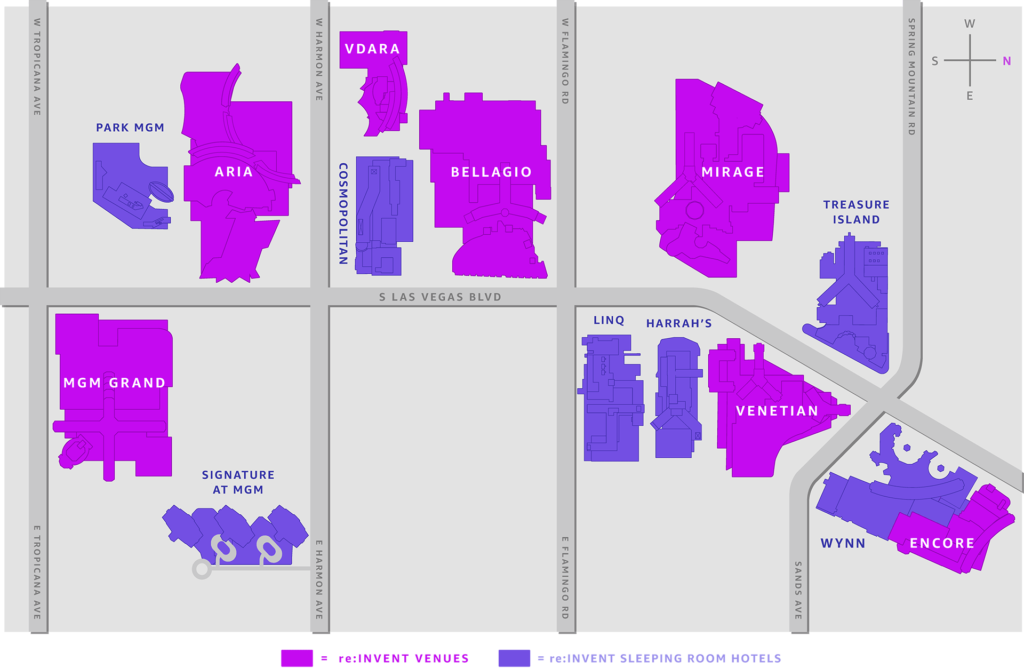 The 2018 Campus
The conference takes over Las Vegas Boulevard and includes over half a dozen venues. The AWS conference team has tried to focus session content by building to help you focus your visit and avoid an unnecessary commute between venues.
The Venetian
Find Here: Major keynotes, the Expo Hall (come visit us!), hands-on labs, general sessions, certification exams, certification lounge, registration, and an AWS re:Invent Help Desk
MGM Grand
Find Here: Hackathons, breakout overflows, chalk talks, general sessions, workshops, and more
Aria
Find Here: AWS Marketplace, builders fair, startup central, welcome reception, general sessions, breakout overflows, builders sessions, chalk talks, and more
Mirage
Find Here: Breakout overflows, builders sessions, chalk talks and more.
The Bellagio
Find here: Breakout overflows, general sessions, chalk talks and more.
Encore
Find Here: Bookable meeting space
Pro Tips: Plan Ahead
I have two pieces of advice about planning your days at AWS re:Invent 2018:
1. Focus on one or two venues per day
Commuting between venues can take up to 45 minutes (or more) each way. Planning to visit too many venues per day could kill hours that could have otherwise been spent learning or enjoying elsewhere.
The AWS Summit team wants to help avoid wasted times commuting, so they plan on streaming many high-demand sessions from one venue to another. If you plan to spend most of your day at MGM Grand but really want to watch a session from the Venetian, look for a stream of the session instead of making the hike.
Another nice option that the team has put in place is that some of the more high profile sessions will be running multiple times throughout the show. If you're having a hard time deciding between two sessions, see if either of them will be given again.
2. Study the calendar a lot, but plan a little
Pick a few keynotes per day that are "must-see" based on your goals but otherwise spend your time networking, visiting the expo hall, and having some fun at some of the more laid-back events.
Planning to spend all four-plus days on high-alert in session after session will leave you depleted of energy by day two.
Download and leverage the AWS re:Invent app as events are subject to change
To help with both goals, take a look at the catalog already available. Due to high demand, the AWS re:Invent team will share the final schedule, give a full week for registrants to take a look, and then open up the session reservation system seven days later. Take advantage of this time and think of this like registering for college courses back in the day – the best sessions fill up almost as soon as the registration is open, sometimes within minutes!
Read the session catalog and save tons of favorites by clicking the "I'm interested in this" option. Seating is limited for many sessions, so be sure to reserve seats at any "must see" sessions!
General Tips for Winning AWS re:Invent 2018
Gear – Wear comfortable walking shoes, bring rechargeable batteries, always have business cards on hand, find someone giving away a bag, and get a water bottle early on as it can be very dry in some of these venues.
Pharmacies – I recommend having water, snacks, and medication on hand at all times. Have granola bars, trail mix, water bottles, and ibuprofen (or your hangover cure of choice) in your bag every morning.  A small bottle of hand sanitizer is also great to have if you're going to be shaking a lot of hands! There are seven pharmacies along the AWS conference campus, take advantage.
Wi-Fi is available, but keep your cellphone charged and available if you leave the venue and may need Uber, Lyft, or walking directions.
If you're attending a full or half-day bootcamp, bring your own computer and be aware of the requirements.
Pre-register for any events that require it, this is usually done via the registration system when you log in.
Simple tips but easy to forget – Bring a pen. Bring two pens. With all the people you'll be meeting it's important to be able to write a quick note on someone's business card so you can jog your memory about the conversation you had with them. A sharpie also can be great if you're going to be attending a lot of raffles, write down the time on the back of the ticket as most raffles require you to be present.
Extracurriculars & Fitness Opportunities
Sure, this is a major learning event. But like I said, you will be brain dead by day two if you plan nothing else but hardcore learning. Just like having a work-life balance is important in the office, it is important to have a balance at AWS re:Invent. Keep your energy up with exercise and leisure events.
AWS re:Invent 2018 Special Events
4K and 8K Charity Fun Run | 6:00 am Tuesday at The Mirage | Pre-registration required along with a $45 donation
Welcome Reception | 4:00 – 7:00 pm Monday at The Venetian and Quad | Meet and greet with cloud leaders and AWS engineers
Midnight Madness | 10:00 pm Sunday – 1:00 am Monday at The Venetian | Party all night until early morning
Broomball Tournament | 7:30 – 9:30 pm Thursday (register for location info) | Watch as a spectator, register your team, or join an existing team to play Amazon's signature Broomball
Pub Crawl | 6:00 – 8:00 pm Tuesday at Aria, Mirage, Top Golf or The Venetian | Visit some famous Vegas bars when the drinks and appetizers are free – thanks, Team re:Invent!
Tatonka Chicken Wing Eating Contest | 10 pm – midnight Sunday at The Venetian | Self-explanatory, pre-registration required
re:Play Party | 8:00 pm – midnight Thursday at The LINQ | Includes an EDM concert and all sorts of fun like ball pits, arcade games, a rock wall, interactive light shows, and more. It's hard to describe – here's a 2016 re:Invent party highlights video.
I hope that you have a successful AWS re:Invent 2018 experience, and I'm pretty sure that you will—if you can follow some of my planning advice. Most importantly: don't forget to register before tickets are sold out, and visit CloudCheckr in the Expo Hall. See you in Vegas!
Jarrett Plante
Events Manager
This event took place in 2018 and is now over. Please see our event page for AWS reinvent 2019 and find us at the show this year!
*All dates noted here are in reference to 2018 and do not reflect this year's event. 
Subscribe to our Newsletter
Get cloud insights delivered. Sign up for the Check List newsletter.