Challenges in the Cloud
Once the Cloud Center of Excellence (CCoE) at an organization has finished research and planning, it will set to work on the complex logistics of building your cloud, gearing up your workforce and putting measures in place to manage your infrastructure. It will be the guiding force behind the following key steps involved in a successful cloud transformation:

Failover architecture and recovery planning
To minimize the impact of server downtime, you'll need a robust application environment and fail-safe disaster recovery plan. However, your specification will need to balance availability expectations with the cost of your backup infrastructure.

Infrastructure provisioning
Similarly, you'll need to provide users with reliable ways to provision secure, compliant, stable and cost-efficient application environments. For example, you should make use of infrastructure-as-code (IAC) tools such as Chef or Puppet, which can help bring consistency and rationality to complex enterprise IT environments, enhancing the portability of workloads and making it easier to monitor and compare performance across the enterprise.
Nevertheless, at the same time, it's important to allow people the freedom to use the cloud as they please—where, with proper guardrails in place, you can still give users the flexibility and independence they need to deal with the everyday practicalities of running IT.

Application development
To realize the full cost-saving and security benefits of the cloud, you'll need to take a new approach to application design based on a distributed architecture of loosely coupled microservices. This will enhance security by introducing new layers of isolation to your application. What's more, you'll also be able to scale components independently of one another, giving you more granular control over resource consumption.

Cloud training and awareness
You'll need to train staff in new technologies, educate them in the differences between cloud and traditional IT infrastructure, and develop and nurture cloud best practices. All three leading vendors offer training in their cloud platforms and certification to validate people's expertise.
Managed service providers can also play an invaluable role in equipping your workforce with the cloud skills they need. They can provide on-the-job training, allowing staff to gain practical experience of working in the cloud and put their new skills into immediate action.
You should also leverage internal PR to keep the wider workforce involved in the transformation process and raise cloud cost and security awareness.

Asset management
You can't manage what you don't know you have. So it's essential to have complete visibility over all your cloud assets. You should implement a tagging system to track ownership of resources. And you'll need monitoring tools to help prevent cloud sprawl—the uncontrolled proliferation of resources, which can leave your infrastructure vulnerable to attack and send your monthly cloud bills through the roof.

Cost optimization and allocation
Likewise, you'll need to optimize your cloud resources so they provide the right balance between performance and costs. You should also take advantage of cost-saving opportunities provided by consolidated billing, which helps you fully exploit usage thresholds, and discounted capacity offerings such as AWS Reserved Instances.
Cost allocation, in the form of chargebacks or showbacks, will also encourage people to use the cloud more responsibly—by making them accountable for their resource consumption.

Change management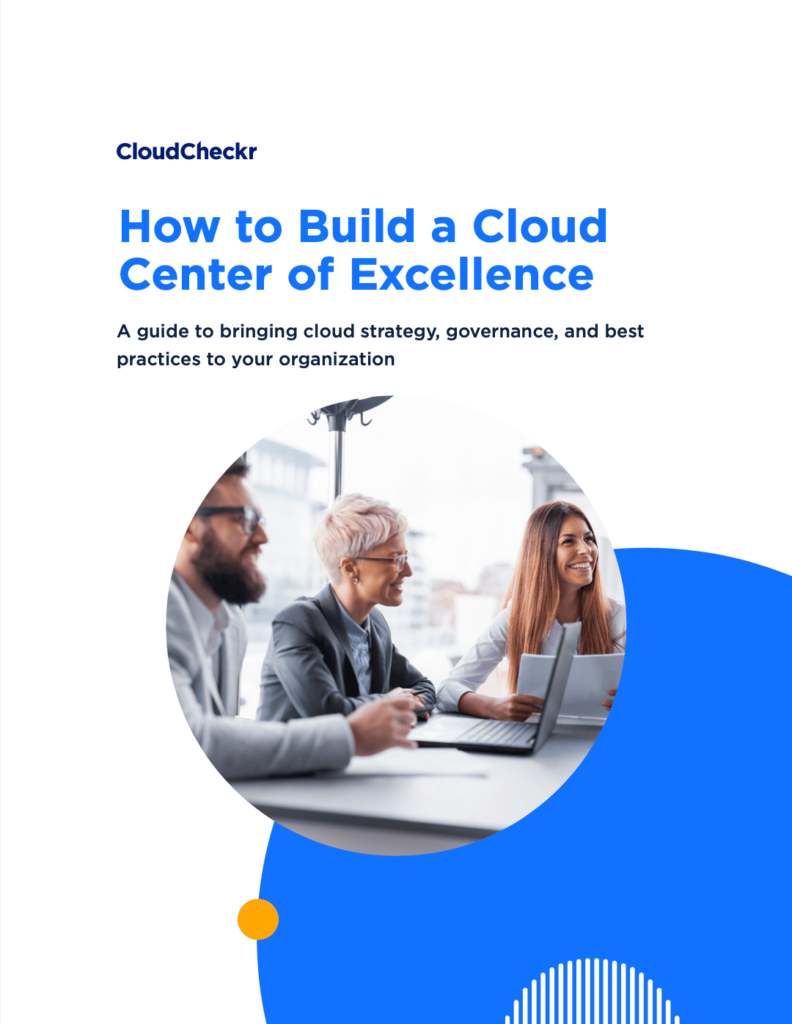 Your CCoE will drive the cloud transformation agenda, working with the senior management team to develop strategic initiatives. It will also perform the role of intermediary between different departments, promoting collaboration and transparency, and aligning the action plans of individual departments to the company's general business objectives.

Building a CCoE
The challenges are many, but building a CCoE can help you overcome them. Download our white paper, How to Build a Cloud Center of Excellence, to learn how a building a CCoE can help you succeed.


Cloud Resources Delivered
Get free cloud resources delivered to your inbox. Sign up for our newsletter.
Cloud Resources Delivered
Subscribe to our newsletter