How to Choose Your 2019 AWS re:Invent Sessions
Want to make the most of this year's AWS re:Invent sessions? We've got you covered.
AWS re:Invent 2019 is just a few short weeks away, and CloudCheckr is ready for another exciting year on booth as a Gold Sponsor. Are you planning to attend this leading AWS conference? If you want to know what all the buzz is about and how to make the most of your AWS re:Invent 2019 experience, keep reading.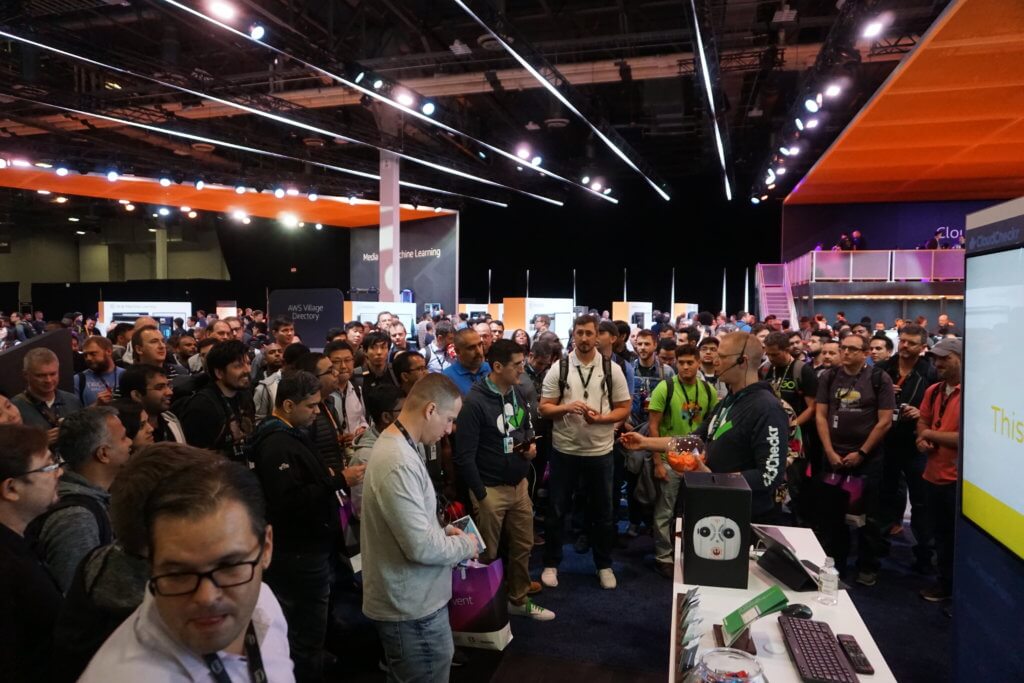 What is AWS re:Invent?
AWS re:Invent is the largest global conference with a focus on cloud computing. Hosted by cloud provider Amazon Web Services, AWS re:Invent is a "learning conference… for the global cloud computing community." 
The eighth annual AWS conference will take place from December 2 to 6, 2019, in Las Vegas, Nevada. Last year's event, also in Las Vegas, had more than 50,000 attendees, and this year's is sure to surpass that figure. With more than 2,700 speaking sessions, bootcamps, hackathons, workshops, keynotes, and more spread over four and a half days, AWS re:Invent has something for everyone.
Why attend AWS re:Invent 2019? 
Like other large conferences, AWS re:Invent will give you the opportunity to learn technical best practices, hear from experts, meet with helpful vendors, and network with your peers. 
According the event FAQ, AWS re:Invent is ideal for "developers and engineers, system administrators, systems architects, and technical decision makers" to attend. But fret not if you work in another industry or technical role, as there's plenty to learn for anyone with an interest in cloud computing. 
Jeff Barr, Chief Evangelist at AWS, explains that the event's purpose is to help attendees enhance their customer experience and grow their businesses. Attending re:Invent, Barr says, provides an "unfiltered view" of the successes other AWS users have seen on their cloud journeys.
Did we mention it's in Las Vegas? Everything on the AWS re:Invent schedule takes place right on the famed Las Vegas Strip and is easy to get to on foot or by public transportation. 
What do you need to know before you go?
Before you dive into the AWS re:Invent agenda, take a look at our guide from last year for our tips on planning your trip. Like last year, this year's AWS conference campus comprises several hotels along the Las Vegas Strip. Traveling from one end to the other can take as long as 45 minutes. To cut down on travel time, choose sessions in just one or two venues each day, and find out which sessions will be livestreamed or repeated during the conference.
Need to know more about what to expect? Watch the series "How to re:Invent", where hosts from the AWS events team as well as AWS brand evangelists explain how to get the most out of the conference. This engaging set of videos is a guide for newbies and past attendees alike. You can also search for what past attendees have to say about this year's conference. Cloud training providers A Cloud Guru have a guide to AWS re:Invent 2019 with plenty of basics to help you get started as well.
Don't forget to check the master schedule to learn shuttle times, find the registration desk, and remember important activities during the conference. You can also take advantage of reserved seating when you sign up for sessions. This feature lets you pre-register for workshops and guarantees you a spot.
Finally, pay attention to the skill level required for each session: Intermediate (200), Advanced (300), and Expert (400). The 300- and 400-level sessions are deep dives into specific services, which may be great for those from technical backgrounds but tougher to follow if you need an overview of the topic. 
How do you decide which AWS re:Invent sessions to attend?
With AWS re:Invent fast approaching, you might find it difficult to narrow down which of those 2,700+ sessions to attend. The AWS re:Invent schedule and course catalog is available here, and it's a lot to sort through.
Here are some basic guidelines to help you make your selections:
Think about your professional goals.

Choosing session topics depends upon your goals for attending the conference. What are your organization's business objectives? What are your interests? Where do you need to build your skills? Consider these questions as you browse the event catalog.

Expand your industry knowledge.

What are others in your industry doing with AWS? Search the session catalog to see what professionals in healthcare, manufacturing, telecommunications, the public sector, and other industries are talking about. In addition to industry, you can browse the session catalog and sort based on the date, topic, session type, and other parameters. 

Learn about product updates.

At

last year's conference

, we learned about the latest offerings from Amazon Web Services, such as new instances from AWS and local hardware storage through AWS Outposts. If you use a specific AWS solution, sign up for a session about it so that you can get the latest news.
What's trending in cloud computing?
Finally, consider popular cloud computing and industry topics where you want to expand your knowledge. Which topics will be trending at AWS re:Invent 2019? To find out, we can turn to the guides from AWS Heroes—advocates for AWS who are passionate about sharing their knowledge with their fellow attendees. 
Here are some of their top AWS re:Invent sessions, along with a few of our recommendations.
Machine Learning
Why it matters: 
Organizations are moving more and more information to the cloud every day. As a result, they need to make sense of all the data they are storing. Machine learning is changing the way we look at the world and the way that enterprises across industries conduct business.
From the experts: 
Machine learning Hero Kesha Williams has split some of the top machine learning and artificial intelligence (AI) sessions into three tracks: one for executives and business professionals; one for engineers, architects, and data scientists; and one for those who are new to AI. See her recommendations here.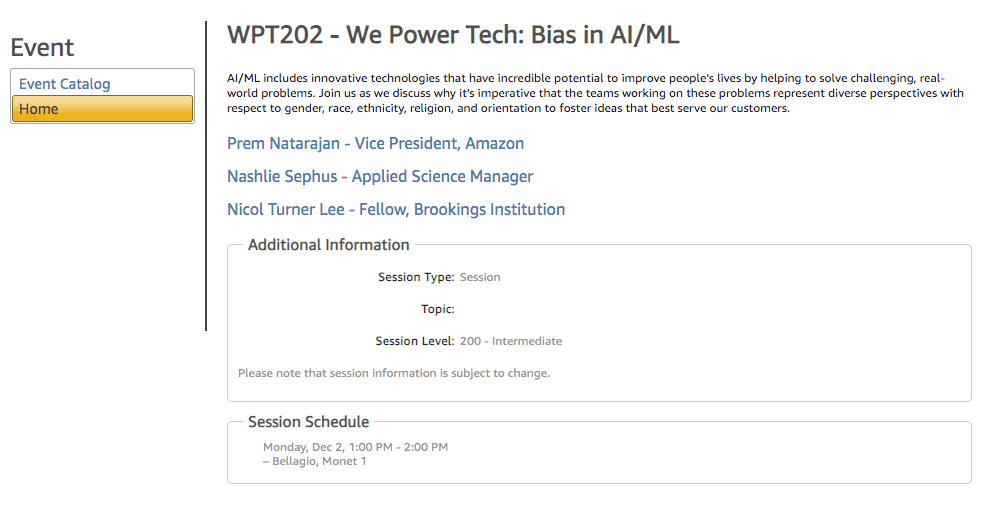 What to attend: 
We Power Tech:

The We Power Tech panels at AWS re:Invent 2019 are designed to promote more accessible, flexible, and inclusive tech. One of the

We Power Tech

sessions will be dedicated to the impact of human bias on machine learning, which Kesha is looking forward to.  "I'm happy to see a We Power Tech session on bias in machine learning," Kesha writes, "as bias is undoubtedly a hot topic as machine learning becomes more widespread and pervasive!" The session's speakers will "discuss how machines inherit human bias and how bias affects facial recognition, self-driving cars, and customer service systems and outcomes."
Build Your Own Chatbot:

Those who like hands-on learning may enjoy a Builders Session that teaches them how to

create a hands-free chatbot

with Amazon Transcribe, Amazon Lex, Amazon Polly, and Sumerian.
Storage
Why it matters: 
As more businesses are migrating to the cloud, they need to understand the storage options available to them. Hybrid and multi-cloud strategies are giving organizations more storage and data backup options. Several AWS re:Invent sessions will help attendees make sense of storage and what AWS has to offer.
From the experts: 
"If you're just learning about AWS storage services, start with the Intermediate level (session level 200) sessions," says AWS community hero Dave Stauffacher. "I seek out the chalk talks whenever possible, because they offer both a service overview and an opportunity for audience discussion." See Dave's guide to storage-related sessions here.
What to attend:
Chalk Talks:

Chalk talks are interactive sessions that feature a short lecture from an AWS team member followed by a Q&A with questions from the audience. Learn the

basics of data migration

in this chalk talk from Amazon's storage team, which will run three times during the conference.
Gotta Catch 'Em All:

And just for fun, gamers may want to see how

Pokémon Company International migrated

to Amazon Aurora PostgreSQL and Amazon DynamoDB, all without facing any downtime in their operations. 
Security
Why it matters: 
According to IBM, the United States has the most expensive data breaches in the world, resulting in an average of $8.19 million in financial losses and remediation costs. Today's organizations can't skip a solid cybersecurity strategy.
From the experts:
Mark Nunnikhoven, who also wrote A Cloud Guru's guide to this year's event, is an AWS Community Hero and security expert. If you're unsure of where to start when it comes to your cybersecurity, begin with sessions that meet the four business cases that Mark outlines here.
What to attend:
Emergency Preparedness:

AWS users need to be proactive in their approach to security. Attendees will walk away from

this session

with more confidence when it comes to preparing for and responding to security events in various AWS tools. And if that wasn't enough, get some hands-on experience at the

Security Jam

. In a set of simulated security incidents, you will learn new skills and practice the ones you've already acquired.
Dev Chats:

In his guide, Mark recommends that attendees check out the talks in the

Developer Lounge

, a.k.a. Dev Chats. "The lounge is community driven and has been immensely popular through the AWS Summits this year and in years past," Mark says. "It's usually standing room only, as other like-minded builders gather around to hear from community members on a variety of topics." Those looking to add to their certifications may benefit from this Dev Chat

prep session for the AWS Certified Security Specialty exam

.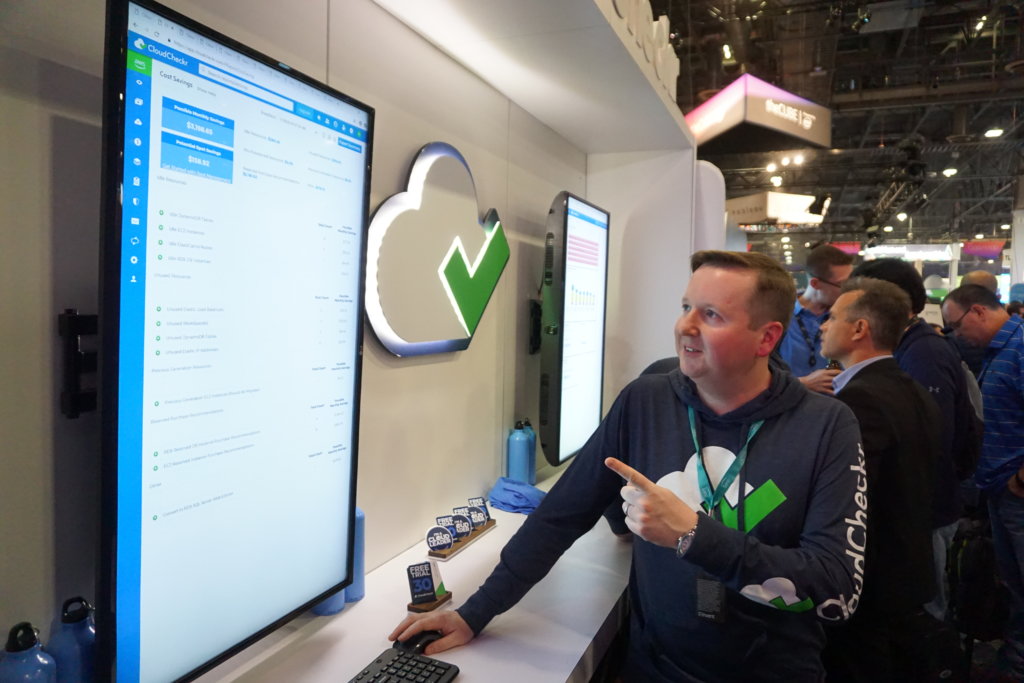 What's one (more) thing you can't miss at AWS re:Invent?
Don't forget to head to the Expo at the Venetian. There you can meet with current and potential vendors and discover new tools that will streamline your AWS cloud experience. 
Visit CloudCheckr at Booth 2425. We'll be on hand to:
Offer free cloud cost management and security consultations at our Resource Bar

Give live presentations on securing and managing complex and sensitive cloud environments at our Expert Desk

Meet one-on-one in-person to help you discover solutions to your unique cloud challenges
We're excited for another action-packed year at AWS re:Invent. Stay tuned for more information on our Event page, and schedule a meeting with us to learn more about how CloudCheckr can help you with your cloud strategy.
Subscribe to our Newsletter
Get cloud insights delivered. Sign up for the Check List newsletter.