We had a great time at AWS Summit Chicago this year at McCormick Place on April 19th. The summit saw over 4,300 attendees, 48 AWS led sessions and 10+ hours of learning and networking opportunities. This event, just like the cloud industry, gets larger every year and only looks to keep growing!
There were presentations on things ranging from deep dives into DevOps and Amazon S3, to disaster recovery and hack-proofing your cloud. With all the different things that we were hearing at the event, it was almost hard to keep track but there were a few themes that kept coming up more than others.
First, security has begun to take precedent when people are entering the cloud. Cost is and always will be important in business decisions, however many questions we were asked and many presentations that we saw were security focused. The scene below was very common across multiple breakout sessions as attendees had to decide which one of the many great presentations fit their needs the best. Hundreds of people split up into plenty of different security presentations including Hack-Proof Your Cloud: Responding to 2016 Threats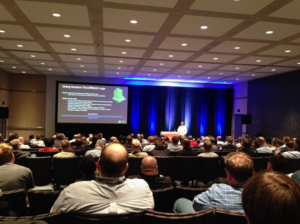 Second, the emergence of cloud computing is not slowing down at all. Whether the company is a large enterprise company or even a smaller company the cloud is where everyone is heading. Dr. Matt Wood, General Manager of Product Strategy at Amazon Web Services was the keynote speaker this year and talked heavily about how AWS wants to make themselves the default choice for even the largest enterprises. If you'd like to watch the full presentation, check it out: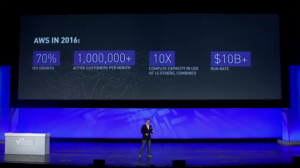 Even just seeing how many people were at the event in comparison to the previous year has shown that more and more people are becoming interested in the cloud. There was a healthy mix of those already in the cloud looking to further their knowledge, and those who are dipping their toe in the water while considering their move into the cloud. Deepak Singh, General Manager of Amazon ECS gave a presentation to a packed group of attendees on Containers and the Evolution of Computing and when we say packed we mean packed.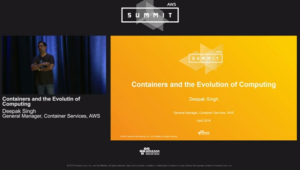 Finally we learned about some new products and updates! As always there were a lot of them but to name a few we saw things such as Amazon Elastic Block Store's new low cost storage options, AWS Elastic Beanstalk Managed Platform Updates, an AWS Storage Update for Amazon S3 Transfer Acceleration + Larger Snowballs in More Regions and Amazon Elasticsearch Data Ingestion with Amazon Kinesis Firehose. There were plenty of other updates which you can read more in depth about here.

We thoroughly enjoyed our time at the AWS Chicago Summit and hope to see many of you again at some of the upcoming summits this summer such as Public Sector Summit D.C., AWS Summit: Santa Clara, and AWS Summit: New York.
As always, if you want to learn more about CloudCheckr through a free hands-on experience, sign up for a 14 day free trial and get started today.
Cloud Resources Delivered
Get free cloud resources delivered to your inbox. Sign up for our newsletter.
Cloud Resources Delivered
Subscribe to our newsletter