What Is Cloud Management?
Wanting to move your company to the cloud and need to know what to consider? This article touches on: 
Cloud management defined for today's businesses

The five pillars of cloud management to keep in mind

Why a successful cloud management foundation matters

How cloud management platforms (CMPs) can help
Getting Started
Cloud management is centralized administration of a company's infrastructure of servers, applications/software, data storage, network platforms, and so on, via the internet – "the cloud." IT administration for cloud environments covers any type of business activity, including resource deployment, data integration, use tracking, and disaster recovery.
Cloud management is applicable to private and public cloud computing deployments and provides a layer of simplicity on top of complex environments. Moving to the cloud enables scale and speed that businesses need to be more productive and profitable.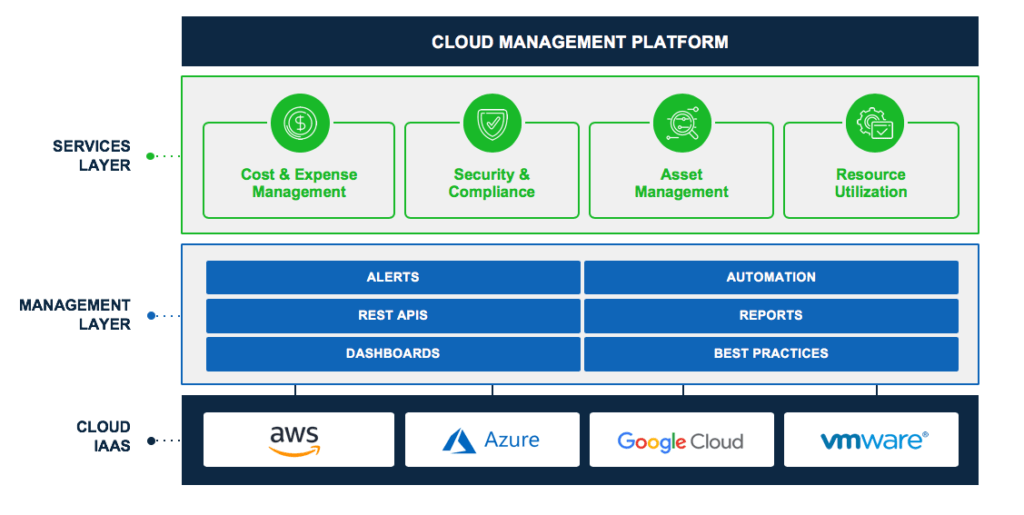 Why Companies Move to the Cloud
There are many reasons for companies to move to the cloud. The most common being the ability to scale and adapt to dynamic business growth easily and affordably while keeping data secure. Having your business in the cloud enables employees to access data from any location at any time; being in the cloud removes physical hardware (that becomes obsolete) and location restrictions that on-premise infrastructures have. 
Using third-party cloud providers can enable you to save money with infrastructure management. For example, moving to the cloud eliminates the need for a three-year investment in capital equipment, having equipment become obsolete before it's fully depreciated, and, perhaps most importantly, avoiding having hardware break at the most inopportune time.
The three most commonly used cloud providers today are Amazon Web Services (AWS), Microsoft Azure, and Google Cloud. Each offers a free version to get started. Each provides cloud services for businesses of all sizes from startups to large enterprises to government agencies. A little insight into each service:
AWS

– delivers power, storage, and other functionality to build sophisticated applications with increased flexibility, scalability, and reliability within 22 geographic regions.* 

Microsoft Azure

– gives you the freedom to build, manage, and deploy applications on a massive, global network using your preferred tools and framework available in 54 regions.**

Google Cloud

– lets you build on the Google future-proof infrastructure that is protected by more than 700 top experts in information, application, and network security. It is offered in 20 regions. 
Transitioning your business technology into the cloud can enable you to focus on what you know best: your company and meeting your clients' needs.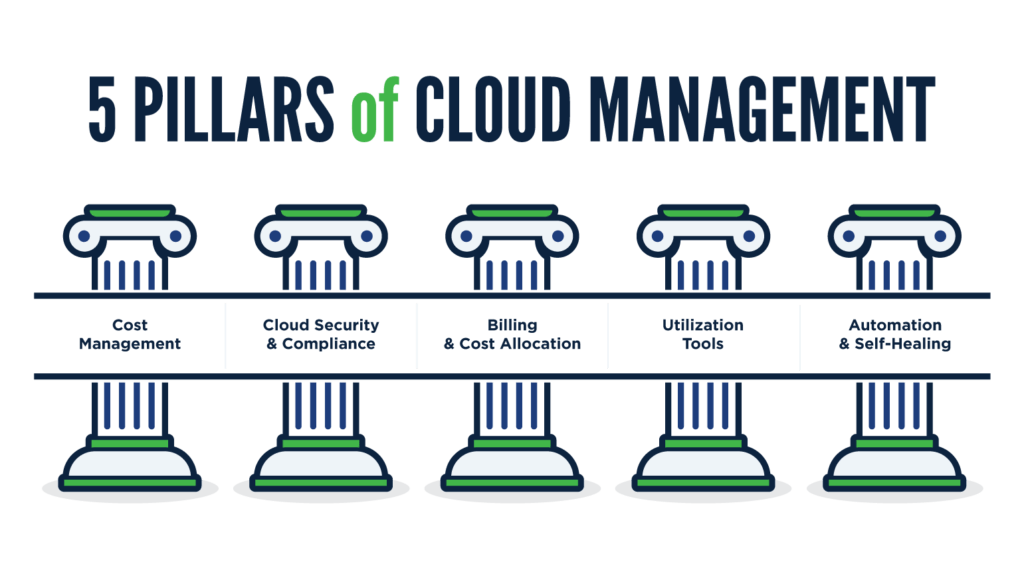 Five Pillars of Cloud Management
Cost management

is challenging for any organization, but particularly for businesses managing cloud infrastructure. Primarily because cloud providers make it easy to add virtual resources to your environment, which can quickly snowball into resource sprawl.

A virtual infrastructure is intangible; businesses often lose track of how wide theirs is growing and how much they're spending. It can also be easy to let all functions run all of the time; turning off services when they aren't in use can reduce expenses. Different cloud management solutions have different metrics and reporting structures when it comes to monitoring resource costs. Know which metrics are most important for your group to track so you can attain the services you need.
Cloud security and compliance

methods for protecting your cloud infrastructure, data, and other resources vary between cloud services, though they all primarily adhere to the

shared responsibility model

. Third-party tools may be needed to fill the gaps in meeting your cloud security needs. Hundreds of best practices have been adopted by the cloud industry to lockdown user permissions, control inbound and outbound traffic, enforce encryption, protect storage, and so on. Compliance-related best practices can be mapped to local, federal, and international standards to meet regulations like HIPAA, PCI DSS, NIST, and others. Finding a provider that offers total compliance support can be a game-changer by helping you pass audits and keep your mind at ease.

Billing and cost allocation

for cloud services can vary from simple to complex depending on the type of business. Find a cloud solution that enables you to understand where your charges are coming from, allocate charges to different departments or customers, and forecast future expenses so you can make long-term commitments to reduce costs. Pay-as-you-go models are common with cloud billing services.

Utilization tools are needed for cloud management to monitor activity, orchestrate process flow, manage costs, keep data secure, and more, depending on your company's offerings and capabilities. All cloud tools enable access through a command-line interface for individual commands and scripts. Google Cloud, for example, offers a tool called Stackdriver, which aggregates metrics, logs, and other performance data for virtual machines and applications running on GCP or AWS. Look at the types of usage metrics a cloud service offers so you can optimize costs while getting the best system performance.
Workflow automation and self-healing enable agencies and organizations to morph business policies into virtual steps that automatically create, manage, and/or monitor cloud deployments. For example, cloud automation lets you maintain all your business concerns for compliance and reporting by alerting you to deviations, such as someone trying to access data from outside certain parameters, in real-time. Self-healing runs 24/7 and pertains to software being able to detect problems, take proper action to resolve the problems, and record everything that happens without human intervention. You can be notified instantly so you can proactively address any concerns and avoid future conflicts. Cloud automation services and self-healing can give you the peace of mind of knowing that your business will always run smoothly. You can get started immediately, connect to your cloud resources, and begin monitoring activity in days – not weeks or months.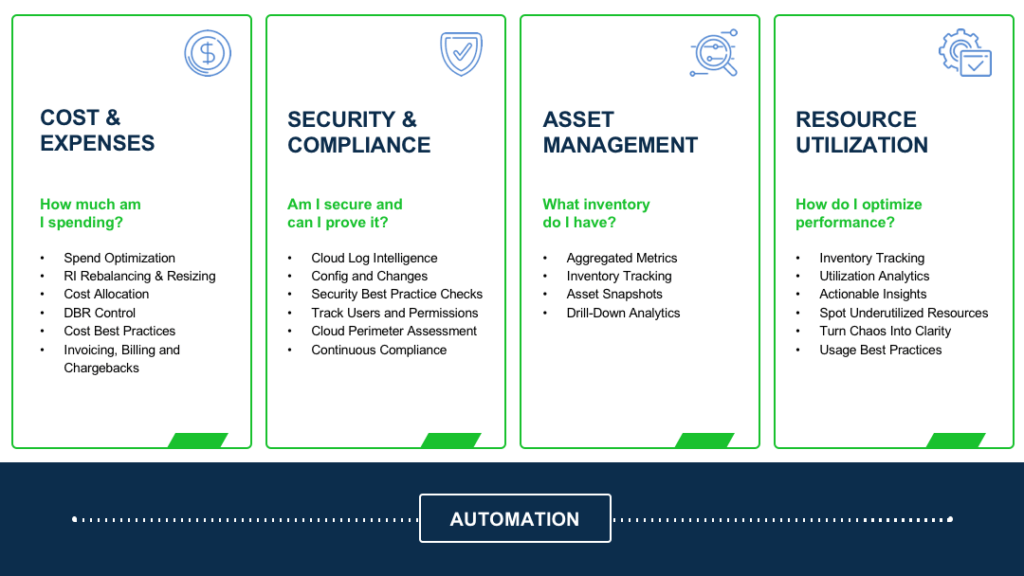 Building the Right Foundation for Your Business
As with a home, a strong foundation matters to the future stability of the structure. When it comes to your business, you need a successful cloud management foundation to support your business today and to be flexible enough to grow with you into the future.
Your success largely depends on the strength of your cloud optimization and security solutions, so you want to make sure your cloud strategy focuses on the cloud management services, tools, and automation that best suit your needs. You want an IT staff that remains in-the-know with cloud technology and has the expertise to adapt to policies and workflows as needed. 
Enlisting a Cloud Management Platform (CMP)
Reliable, fast, and affordable hosting services are top concerns, as are ways to reduce unused virtual resources, forecast future cloud management costs, and obtain detailed reports giving a total visibility into your cloud infrastructure expenses. 
Now that you have a comfort level with cloud management as a concept, your best resource for a comprehensive IT solution may be a cloud management platform (CMP). These platforms can help enhance your IT offerings and solve complex business challenges across departments. A CMP can help your business accelerate service delivery, manage and control security on a variety of IT assets, enhance overall system efficiency, and strengthen communications between business units. A CMP enables you to retain control of your IT environment and reduce overall IT costs, while helping to manage all levels of complexity of your virtual solutions and applications.
*All with two or more redundant Availability Zones
**With access to local Microsoft sales and support
Subscribe to our Newsletter
Get cloud insights delivered. Sign up for the Check List newsletter.