Your Guide to Making the Most of the Conference and Developing Your re:Invent Itinerary
AWS re:Invent 2021 is just a few short weeks away. CloudCheckr is ready for another exciting year and thrilled to once again see you live and in-person!
Want to make the most of this AWS re:Invent 2021? We've got you covered. Here's what you need to know before you go, which trends to pay attention to, and how to choose from the conference's vast session catalog and events agenda.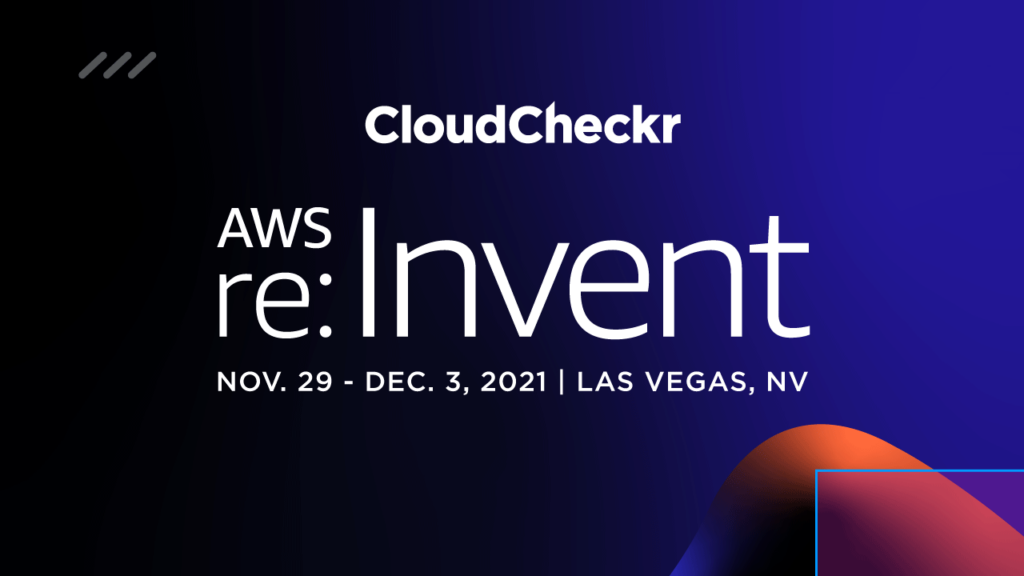 What is AWS re:Invent?
AWS re:Invent is the largest global conference with a focus on cloud computing. Hosted by cloud provider Amazon Web Services, AWS re:Invent is in its tenth year and will take place from November 29 to December 3, in Las Vegas, Nevada.
Previous re:Invent conferences have included tens of thousands of attendees, making it the must-attend event for cloud practitioners of all skill levels. With more than thousands of speaking sessions, bootcamps, hackathons, workshops, keynotes, and more throughout the week, AWS re:Invent has something for everyone. Best of all, this year you have the choice to attend in-person or join in virtually for free.
Why attend AWS re:Invent 2021?
AWS re:Invent will give you the opportunity to learn technical best practices, hear from experts, meet with helpful vendors, and network with your peers. AWS also offers certification and training opportunities at the event, allowing you to level-up your cloud practice.
Did we mention that it's in Las Vegas? Everything on the in-person AWS re:Invent schedule takes place right on the famed Las Vegas Strip and is possible to get to on foot or by public transportation. 
Attending virtually is also a fantastic option to take advantage of this year. Last year's event was 100% virtual, and this year there's the option to sign up as well. This allows you to attend from anywhere in the world. Best of all, virtual registration is free.
What do you need to know before re:Invent begins?
As with previous years, this year's AWS re:Invent conference campus comprises several hotels along the Las Vegas Strip, with most of the registration activities taking place in The Venetian.
Traveling from one end of the Las Vegas Strip to the other can take as long as 45 minutes, so don't forget to pack some comfortable shoes! To cut down on travel time, choose sessions in just one or two venues each day, and find out which sessions will be livestreamed or repeated during the conference.
AWS offers a video series on How to re:Invent. This engaging set of videos is a guide for newbies and past attendees alike. Hosts from the AWS events team as well as AWS brand evangelists explain how to get the most out of the conference, with insider tips, planning advice, and interviews with re:Invent experts. You can also follow the AWS re:Invent account on Twitter.
You can also search for what past attendees have to say about this year's conference. Cloud training providers A Cloud Guru have a guide to AWS re:Invent 2021 with plenty of basics to help you get started as well.
Don't forget to check the agenda to learn shuttle times (or keep track of virtual meetings), find the registration desk, and remember important activities during the conference. You can also take advantage of reserved seating when you sign up for sessions. This feature lets you pre-register for workshops and guarantees you a spot.
Due to COVID-19, AWS is taking several precautions for all attendees. If you're attending in-person, be sure to review the event's health and safety measures, and be prepared to show proof of vaccination.
What's trending at AWS re:Invent 2021?
Not sure where to start? AWS has you covered with their AWS Hero Guides. Each of these thought leaders recommendations for what to attend and from whom you should hear while at re:Invent.
Trending topics at AWS re:Invent 2021 include containers, databases, DevOps, machine learning, security, serverless, and storage. The Hero Guides also offer tailored recommendations for startups and first-timers attending the conference as well as introverts who may be a bit overwhelmed at the idea of networking with thousands of their peers.
There's truly something for everyone at the conference. In addition to recommendations from AWS Community Heroes, you can also find guides based on industry, recommendations for AWS Partners, and a look at Inclusion, Diversity, and Equity at AWS re:Invent. 
We're also excited to see what our colleagues from Spot by NetApp have in store for AWS re:Invent. We'll be watching their Breakout Session CloudOps: Best practices for optimizing cloud services November 30 at 5:45 p.m. in The Venetian and catching them in the Partner Theater on December 1 at 2:45 p.m.
How do you decide which AWS re:Invent 2021 sessions to attend?
With AWS re:Invent fast approaching, you might find it difficult to narrow down which sessions (out of thousands) to attend. Session types range from breakout sessions, chalk talks, and keynotes from experts in the field to demos, lightning talks, workshops, bootcamps, and more for training and professional development.
How can you keep up with everything happening? Here are some basic guidelines to help you make your selections:
1. Start looking now.
Want to get a peek at the sessions? First, register for the event. Once registered, you'll have access to the full schedule. You can always register for the virtual event immediately and then sign up to attend in-person if you're waiting on funding. Once registered, you'll have immediate access to the full session catalog. You'll also have the chance to reserve your spot for sessions so that you don't miss out.
2. Think about your professional goals.
Choosing session topics depends upon your goals for attending the conference. What are your organization's business objectives? What are your interests? Where do you need to build your skills? Consider these questions as you browse the event catalog. If you're further along in your cloud journey, you might also think about the skills that you need to bring back to your colleagues as well.
3. Expand your industry or job role knowledge.
What are others in your industry doing with AWS? Search the session catalog to see what professionals in healthcare, manufacturing, telecommunications, the public sector, and other industries are talking about. In addition to industry, you can browse the session catalog and sort based on the date, venue, session type, AWS product, topic, job role, and other parameters.
4. Get the basics on cloud… or level up!
Pay attention to the skill level required for each session: Foundational (100), Intermediate (200), Advanced (300), and Expert (400). Foundational and Intermediate sessions are ideal for those new to cloud and in non-technical roles, or for anyone who needs a refresher. Advanced and Expert-level sessions are deep dives into specific services, which may be great for those from technical backgrounds. 
5. Stay in the loop with product announcements and updates.
Every year we attend AWS re:Invent, we always come away from it with greater knowledge of the vast array of AWS products and services. If you use a specific AWS solution, sign up for a session about it so that you can get the latest news. And don't forget to attend the keynotes and leadership sessions for the big announcements.
6. Make time for professional development.
AWS re:Invent offers in-person and online opportunities for training and certifications to help you advance your cloud practice and your career. At the in-person event, you'll have access to labs to practice your craft in a sandbox environment, bootcamps to deepen your knowledge, and AWS certification opportunities.
7. Leave room for networking.
Whether you're attending Midnight Madness (the party that kicks off re:Invent), checking out one of the many social activities, or hitting the Expo floor, there are plenty of opportunities to meet with your peers. Schedule in some downtime for yourself, too — you never know who you'll run into during a coffee break or before the next session begins.
What's one (more) thing you can't miss at AWS re:Invent 2021?
Don't forget to head to the Expo at the Venetian. There you can meet with current and potential vendors and discover new tools that will streamline your AWS cloud experience.  
Most importantly, you can visit CloudCheckr at Booth 1061. We'll be on hand to offer free cloud management demos and meet one-on-one in-person to help you discover solutions to your unique cloud challenges.
We're excited for another action-packed year at AWS re:Invent 2021
Visit our Event page for more information, and schedule a meeting with us to learn more about how CloudCheckr can help you with your AWS strategy.
Cloud Resources Delivered
Get free cloud resources delivered to your inbox. Sign up for our newsletter.
Cloud Resources Delivered
Subscribe to our newsletter