Every organization has a different strategy when it comes to moving to and operating in the cloud. No matter what their individual needs, however, they all need one thing: an expert team to guide the cloud journey.
While some organizations may want their cloud expertise to come from one company leader, it's better to take a more collaborative approach to cloud management. One way to do so is to create a Cloud Center of Excellence, also known as a CCoE or CoE.
What is a Cloud Center of Excellence?
A Cloud Center of Excellence is a cross-functional team that leads their organization's cloud transformation. They are responsible for developing and managing cloud strategy, governance, and best practices for the rest of the organization to follow. Other names for a CCoE include a Cloud Competency Center, Cloud Capability Center, or Cloud Knowledge Center. No matter what they are called, the members of this group serve as internal subject matter experts on all things cloud.
Why establish a CCoE?
The "why" of forming a CCoE is usually where organizations get started. They know that they need to manage their cloud costs, maintain the highest levels of security and compliance, and have total visibility into every cloud account. 
Adoption of Cloud Centers of Excellence is growing, showing that these groups are more of a must-have than a nice-to-have. In our most recent Cloud Infrastructure Report, 22% of organizations surveyed said that they have a formal CCoE in place, up from just 16% in 2017. An additional 37% have a team in place that performs many of the functions of a CCoE.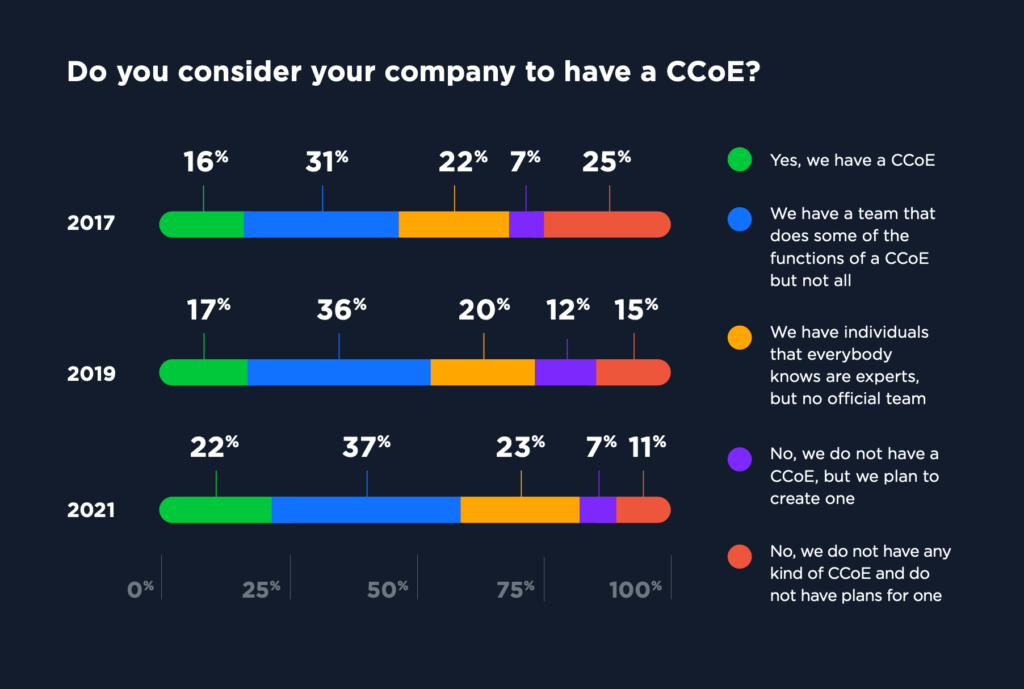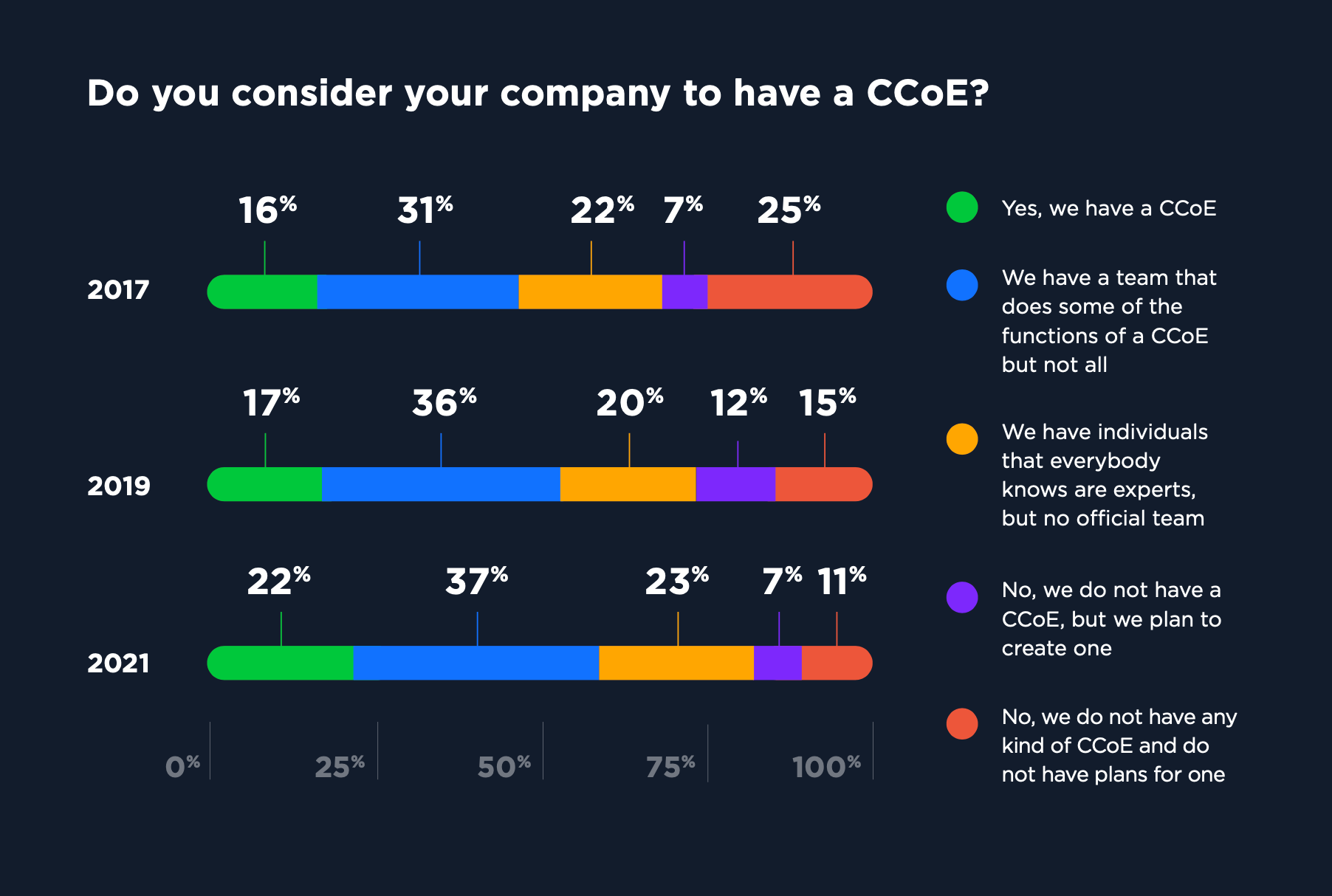 More businesses (59%) are establishing Cloud Centers of Excellence and similar groups than in previous years. Get these and other insights in our 2021 Cloud Infrastructure Report.
Of the enterprises surveyed that have adopted a CCoE, a full 96% report that they have benefited from that expertise. The most common values reported in areas of efficiency (53%), accountability (45%), security (45%), and governance (43%). Meanwhile, just 5% of those organizations said they were in the cloud, proving that a CCoE is helpful even if you're not planning to go all in on cloud.
Yet there's another question to answer ASAP as well: who will become part of this task force?
Who should you include on the CCoE team?
Members of the CCoE team need to be experts in all things IT modernization. The goal of the CCoE is to lead a successful cloud transformation for the organization and ensure that everyone is on the same page. A CCoE may provide training for different departments, functions, and stakeholders as well as ongoing support throughout the process.
However, these roles don't need to be the same. Your CCoE team should come from a wide range of IT backgrounds in order to bring a variety of perspectives and a balanced set of knowledge and skills to the organization.
What roles might CCoE team members hold?
Ideally, the CCoE should include members who already have cloud experience. Someone in a role like lead cloud architect may be appointed leader of the CCoE. However, owing to the multidisciplinary nature of the cloud, employees with a broad set of related skills are particularly useful. Leaders from finance, operations, and technical roles as well as members of the C-suite should be involved in the ongoing conversations around cloud transformation.
To get started, some common job titles for CCoE personnel may include:
Cloud architect

Lead cloud architect

IT manager

IT financial manager

Operations manager

Systems architect

Systems administrator

Application developer

Database administrator

Network engineer

DevOps manager

DevOps engineer
As well as proponents of the cloud, it may also help to include one or two skeptics in your team. As they begin to embrace the new technology, they may ultimately prove instrumental in bringing about a cultural shift. Regardless of title, all candidates for your CCoE team must also have an open-minded attitude — whatever opinions they currently hold towards the cloud.
What traits should CCoE team members share?
Leading a successful Cloud Center of Excellence means finding the right people to bring together. Go beyond job title or function and look for these four essential qualities in your CCoE contributors:
1. Great collaboration and teamwork
Above all, a CCoE is a collaborative effort. This team is responsible for creating policies and providing resources to the rest of the organization. Thankfully, this also means that the CCoE work doesn't just fall on the shoulders of a single person or business function.
Members of the CCoE can also ask for input from everyone in the organization, not just the executive team or IT department. Everyone in the CCoE should be willing to serve as a helpful resource before, during, and after the cloud transformation.
2. Project management and presentation skills
Good interpersonal and boardroom skills are important. Your CCoE will need to bring out the best in others, handle objections, report results to senior management and explain the benefits of the cloud to stakeholders.
The people on this team should be able to work well within the group as well as on their own. Independent work may include handling project management tasks, performing research, and writing regular updates and briefs to distribute throughout the company.
3. Understanding of "Cloud as a Product"
AWS recommends that designated CCoE members should "Treat the cloud as your product and application team leaders as the customers you are enabling." Before a migration, the cloud might be unfamiliar to some within the organization. A CCoE's job is to address concerns and questions that employees may have about cloud use.
The CCoE members should supply these individuals with resources and training materials to help empower them in their cloud journey. Gartner suggests that CCoEs should establish "a knowledge base, source code repository, training events, [and] outreach throughout the organization," among other tactics that promote cloud knowledge and best practices.
4. An open-minded and adaptable attitude about new technology and processes
With technology, change is inevitable. CCoE members should be able to easily adapt to changes as well: to the organization, to the cloud, and to the CCoE itself. A CCoE's structure and operating principles should always reflect this mindset when selecting vendors and adding services.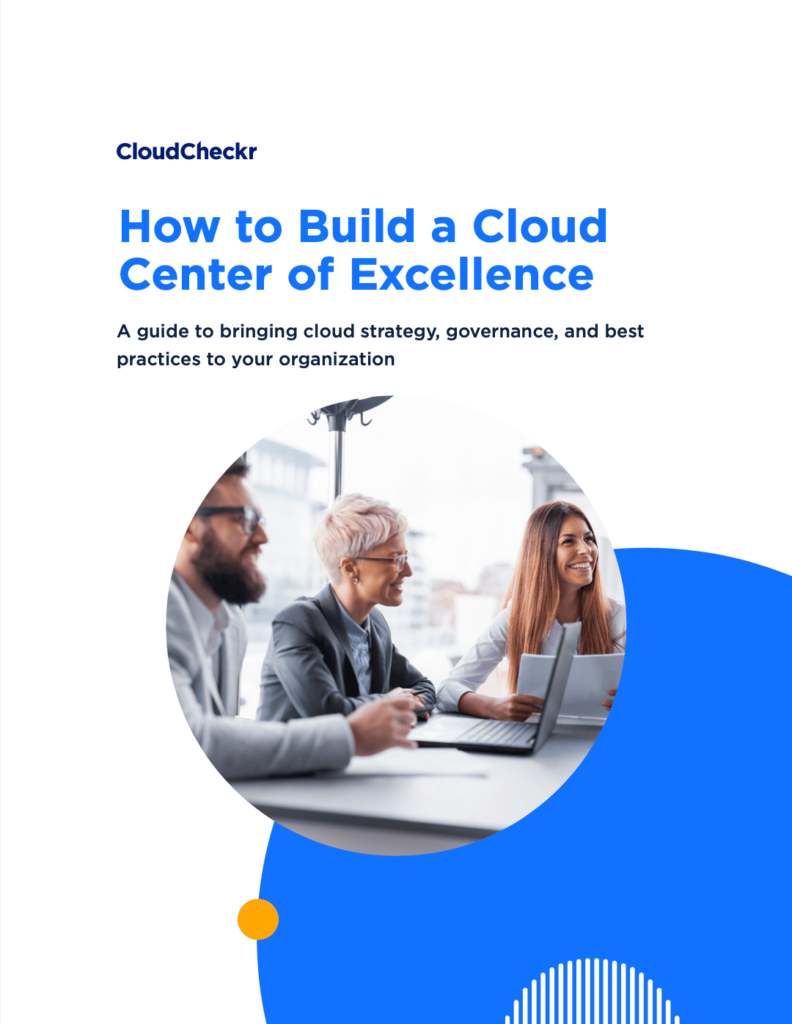 This thought process also applies to the CCoE itself. A CCoE will likely start small, even in larger enterprises. Later, the size and structure of the CCoE may grow with the organization as more employees buy into the power of cloud computing. Team members may be part of the CCoE on an ongoing or temporary basis. Additionally, they might either work for the CCoE full-time or hold another position within the organization.
Ready to Build Your Own CCoE?
When you have the right personnel in place, your organization's cloud transformation can truly begin. A Cloud Center of Excellence can accelerate the planning phase of your cloud migration and provide the necessary expertise to understand the challenges of continued cloud operations.
Download our guide How to Build a Cloud Center of Excellence to learn how to bring cloud strategy, governance, and best practices to your organization.
Cloud Resources Delivered
Get free cloud resources delivered to your inbox. Sign up for our newsletter.
Cloud Resources Delivered
Subscribe to our newsletter