In our previous posts on our 2021 Cloud Infrastructure Report, we talked about increases in cloud adoption and the barriers that organizations face in cloud adoption and management. Another key finding: internal buy-in may be one of the most important factors in an organization's cloud success. This can be achieved through a comprehensive cloud strategy that includes leveraging internal experts and additional investments in cloud resources.
The 2021 Cloud Infrastructure Report from CloudCheckr features new research on organizations' public cloud investments. Based on a survey sponsored by CloudCheckr and conducted by Dimensional Research, 304 respondents in IT and business functions at organizations with 500 or more employees answered questions about their public cloud infrastructure. With cloud adoption on the rise, more organizations are making investments in cloud expertise and tools for cloud management.
(Want a high-level overview? CloudCheckr CEO Tim McKinnon talked to TechStrong TV about some of the most surprising findings in the report. Watch the interview here.)

More Cloud Centers of Excellence and investments in cloud teams
One thing that many of these organizations had in common was a Cloud Center of Excellence (CCoE). The report defines these groups as follows:

"A Cloud Center of Excellence (CCoE) is a cross-functional team of people responsible for developing and managing the cloud strategy, governance, and best practices that the rest of the organization can leverage to transform the business using the cloud. The CCoE leads the organization as a whole in cloud adoption, migration, and operations. It may also be called a Cloud Competency Center, Cloud Capability Center, or Cloud Knowledge Center."

In total, 59% of respondents said that they have a CCoE or a team that performs similar functions in place in their organization. That number is up from 47% in 2017 and 53% in 2019. Additionally, while some organizations in the 2021 report said that they lack an official team, most have the desire to work with one. However, 11% of all respondents currently have no plans to develop such a team.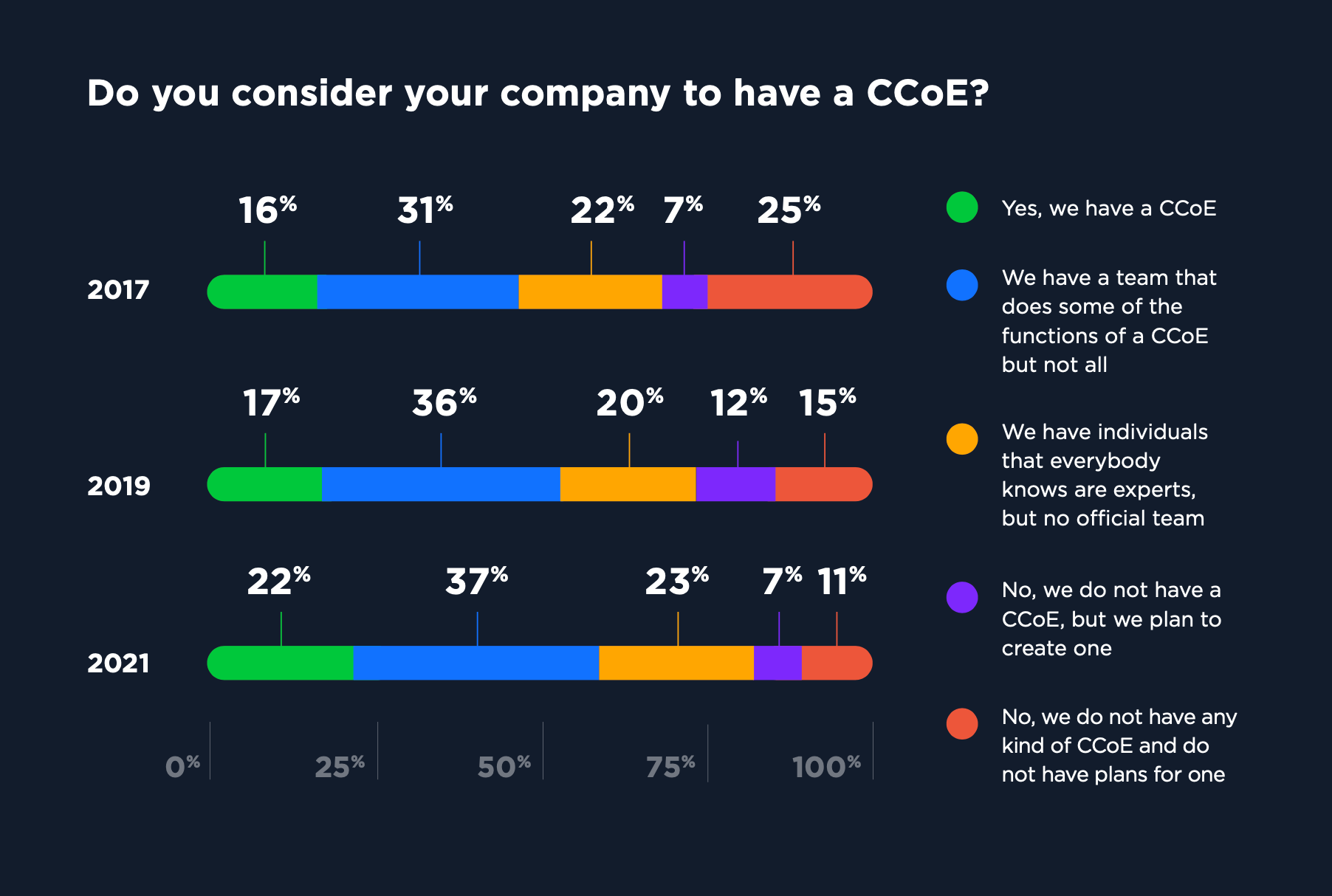 Benefits of the CCoE
The survey asked respondents how they have benefited from having a CCoE and allowed them to select multiple answers. The vast majority of respondents (96%) reported that they have seen benefits from developing such a team. Among the top benefits organizations saw were:
Better overall operational efficiency (53%)

Increased confidence in cloud security (45%)

Increased accountability (45%)

Improved governance (43%)

Better understand of cloud billings (41%)
The maturity of the team also makes a difference in the level of benefits. Organizations with a full CCoE reported better overall operational efficiency than those with individual expertise but no actual CCoE (59% vs. 42%).

Ideal investments in cloud success
Increasingly, organizations recognize the importance of forming a CCoE and of making investments in cloud expertise. Cloud stakeholders surveyed had a very good idea of where their CCoE investments can yield the best outcomes. In a multiple-answer question, 64% of respondents said that long-term architecture review and strategy would have the most positive impact on cloud investments. This was closely followed by investments in better cloud management tools, which 57% of respondents selected.
An overwhelming majority (98%) of respondents said that some type of cloud management technology would benefit their organization. At the top of the list was technology that would help them operate in high-security environments, which 59% named as the most desired capability.

Discover the most in-demand cloud resources
Read the full 2021 Cloud Infrastructure Report for new data on how organizations can leverage internal experts and cloud management tools to get the most out of their public cloud investments.
Download the 2021 Cloud Infrastructure Report
Cloud Resources Delivered
Get free cloud resources delivered to your inbox. Sign up for our newsletter.
Cloud Resources Delivered
Subscribe to our newsletter