It's official: more organizations are moving more of their IT infrastructure to the cloud. New research from CloudCheckr explores the frequency of cloud adoption, the amount of infrastructure moving to public cloud, and the barriers that organizations face as they migrate to the cloud.
The 2021 Cloud Infrastructure Report from CloudCheckr details public cloud computing trends among large organizations. The findings are based on a survey, sponsored by CloudCheckr and conducted by Dimensional Research, that collected the responses of 304 qualified individuals in IT and business functions. All respondents had decision-making responsibility for significant public cloud infrastructure investments at a company with more than 500 employees. The survey repeated questions from CloudCheckr's 2019 and 2017 surveys as well to examine changing trends. One of the key findings: full and partial public cloud adoption is on the rise.

More organizations with more infrastructure in the cloud
Traditionally, IT infrastructure stayed on-premises in data centers. Yet building and operating data centers is costly, and they can quickly become obsolete, requiring expensive updates and upgrades on a regular basis. Public cloud platforms — such as Amazon Web Services (AWS), Microsoft Azure, and Google Cloud — can bring organizations greater cost efficiency, security, and innovation than they would see running a data center.
Some organizations are switching 100% to the cloud; they've either arrived there already, as 5% of our survey respondents indicated, or they're heading there in the future. But cloud adoption doesn't have to be an all-or-nothing approach. Other organizations choose to operate more than one cloud platform, known as a multi-cloud strategy, or they may mix public cloud with on-prem (private cloud) storage, known as hybrid cloud computing.
The latter was an increasingly popular option for survey respondents. A total of 57% reported that they have half or more of their infrastructure in the cloud (including the 5% who are all cloud). Those numbers have increased since 2019, when only 2% of organizations said they were fully in the cloud and an additional 45% reported half or more cloud-based infrastructure.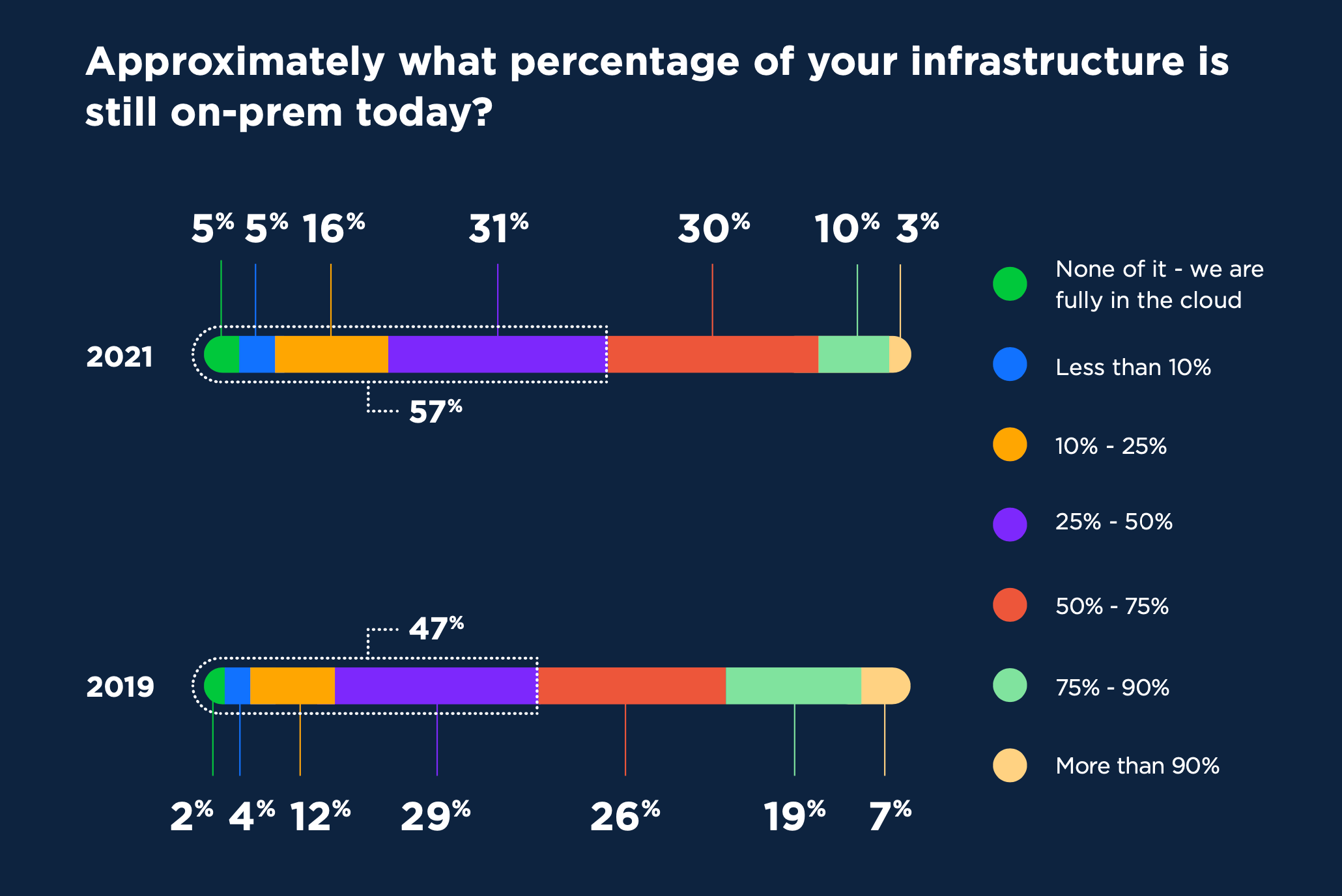 In our 2019 study, cloud stakeholders underestimated their future level of growth. Just 53% expected that more than half their infrastructure would be in the cloud at that time, versus the 57% that actually passed that milestone goal this year. This indicates that cloud transformation often moves more quickly than customers may expect. According to our data, we will have five times more organizations by the end of next year and 13 times more within five years. Managed service providers have a clear opportunity to attract customers who are migrating to the cloud or considering migration.

Reasons for public cloud adoption
Some of our respondents said that they plan to retain a hybrid cloud infrastructure of some kind. However, even more are planning to be fully in the public cloud or are already there. Nearly two-thirds (64%) of respondents are already fully in the cloud, will be there by the end of the year, or plan to fully migrate sometime within the next five years. In total, only 13% of respondents said that they don't ever plan to move all their infrastructure to the cloud.
So why go from on-prem to the cloud? We asked respondents with at least three-quarters of their infrastructure in the cloud why they chose to make the move:
46% reported that they "opportunistically transitioned to cloud" when it was convenient and were able to migrate most infrastructure over time

39% proactively chose to go from on-prem to cloud, despite the significant amount of effort it took

14% said that they have always been in the cloud, so there was no need to make any major decisions
This data reveals an important lesson: there is no single path to the cloud. Organizations are moving at their own pace to make cloud migration a reality. But being proactive about the move and looking out for chance opportunities may be the keys to successful cloud migration.

Barriers to rapid cloud migration
Unfortunately, not every organization can go as fast as it likes. A few factors continue to hold organizations back from going fully cloud. Security remains the top concern, preventing 44% of respondents' organizations from completing a total cloud migration. Compliance and regulations as well as lack of application support were also detriments to total cloud migration. Only 4% of all respondents said that they were still on-prem due to a lack of interest in cloud.
There's another issue that organizations face once they move to the cloud: managing costs. We have more on that topic here. But don't wait — download the report today.

See who's making the move to the cloud
Get the full 2021 Cloud Infrastructure Report for more data on cloud adoption and the challenges organizations face after an unpredictable year.
Download the 2021 Cloud Infrastructure Report
Cloud Resources Delivered
Get free cloud resources delivered to your inbox. Sign up for our newsletter.
Cloud Resources Delivered
Subscribe to our newsletter