More organizations are moving from on-premises storage and into the cloud, representing a shift to operating expenses for many. Yet once those organizations are in the cloud, how do they stay on top of cloud costs and optimize their spend?
The 2022 Cloud Infrastructure Report, sponsored by Spot by NetApp and conducted by Dimensional Research, aims to answer this question and others surrounding enterprise cloud transformation.
The Cloud Infrastructure Report is based on an online survey of cloud infrastructure stakeholders working at companies with more than 500 employees. A total of 305 qualified individuals in IT or business completed the study. All had decision-making responsibility for significant public cloud infrastructure investments. Specific questions were repeated from similar 2017, 2019, and 2021 studies (previously presented by CloudCheckr) to investigate changing trends. 
In the report, we explored three major findings in cloud trends:
In this post, we'll explore the second finding: the challenges associated with cost management and the implementation of FinOps for cloud financial operations.
Confidence in managing public cloud costs declined from 2021 to 2022
As more companies invest deeper in public cloud infrastructure and the number of cloud users matures, they must consider the business value gained from these resources. Are they paying appropriately for resources used or wasting cloud spend on resources provisioned inefficiently? When cloud stakeholders were asked about the visibility into their company's public cloud costs during the past year, just 21% were "very" confident in that visibility, down from 31% in 2021. 
That decreased confidence is attributable, in part, to decision makers' ability to monitor and optimize costs effectively within often growing cloud environments. Just 30% of respondents said that they could do so, while a staggering 70% are struggling to gain visibility into and control their cloud spend. 
Cost management is a top priority for companies — selected by 62% of respondents. When looking solely at larger enterprises with more than 5,000 employees, that figure jumps to 68%, highlighting the critical nature of cloud cost optimization even for organizations with larger budgets and more complex operations.
Cloud purchase options are widely used, but not fully understood
In the report, we found that the vast majority of companies (91%) use some kind of cloud purchase option, but they don't always use them effectively. Common procurement options for cloud computing include commitments and usage discounts that help to minimize costs.
The top cloud purchase options respondents named were Reserved Instances, Committed Use Discounts, Savings Plans, and Spot Instances/VMs. Just 9% of respondents said they don't use any purchase options.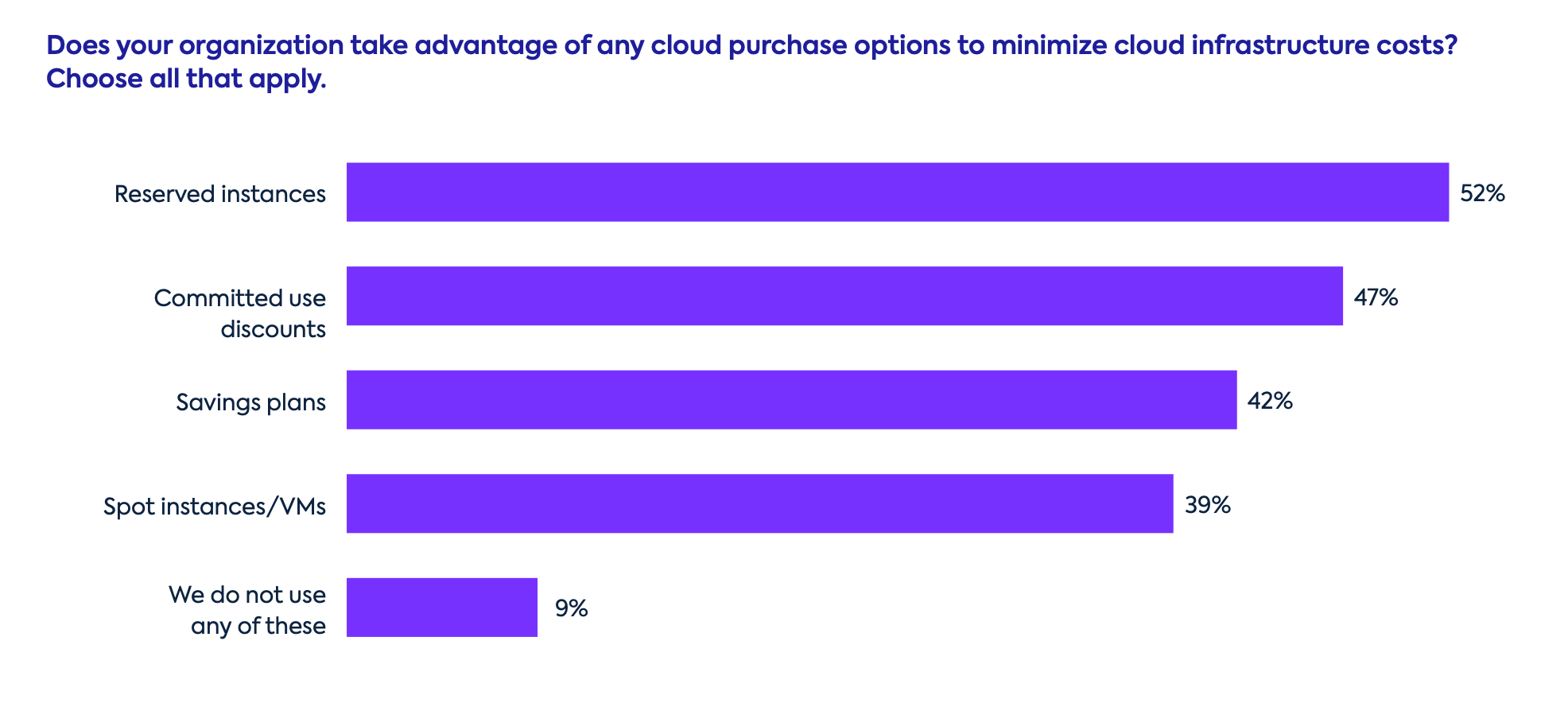 Furthermore, 61% of companies use more than one of these options for minimizing cloud costs. Yet only a third (33%) of companies report they are using these cloud purchase options effectively.
One strategy that some respondents found helpful was to mix and match their purchase plans. In fact, the more diversified cloud purchase options they chose, the more success they saw controlling cloud costs. More than half (51%) of respondents who use three or more purchase plans said that they are effective in driving significant savings. 
FinOps is important to cloud success, but not everyone is there yet
Day-to-day cost management through discounts and purchase plans is one way to reduce cloud costs. But these days, spending tactics can only take businesses so far in meeting their cloud transformation objectives. FinOps, or cloud financial operations, is a growing methodology that helps organizations align cloud adoption and investment with business strategy and promote enterprise-wide accountability.
An overwhelming 96% of respondents said that FinOps is important to cloud success. However, over half are still working toward developing a FinOps practice, and just 10% of those currently have a mature FinOps practice in place. 
Companies use various methods to manage financial operations today, including outsourcing to managed service providers (MSPs). We cover that in the third part of our highlights series, or you can read about the benefits enterprises see in using an MSP now in the full report.
Get the full 2022 Cloud Infrastructure Report
Read the full report to learn how enterprises are managing their cloud costs.
Download the Report
Cloud Resources Delivered
Get free cloud resources delivered to your inbox. Sign up for our newsletter.
Cloud Resources Delivered
Subscribe to our newsletter