As expected, Amazon announced a slew of new products and features at AWS re:Invent, its annual trade show.CloudCheckr was there, in full force, with more than a dozen representatives and a booth that was jam-packed with attendees and guest presenters.
While there were too many announcements to cover in a single article, we'll go over the more significant offerings from AWS as well as our observations, now that we've had a couple of days to digest everything! If you couldn't attend yourself, this could be the next best thing.If you did attend, please share your overall impressions of re:Invent in the comments below, including what part you liked best.
The Show
The CloudCheckr booth was always busy, in part because we invited our friends and partners to use the CloudCheckr Theater to present on a variety of topics. Among them was Corey Quinn, the snarky author of the Last Week in AWS newsletter present a live version of his weekly email, dubbed This Morning in AWS!
Our booth was also buzzing because we gave away a record amount of swag!We held a high-end raffle every hour the show floor was open. Something tells me there will be a lot of Star Wars drones and Jedi Challenges VR goggles gifted this holiday season!
But one of the main purposes of the show is AWS announcements, so let's focus on that. Some of this year's biggest announcements were around technologies like Databases, Serverless, new instance types and even Hardware!
AWS Outposts
Let's start with Hardware, which is unusual coming from the cloud vendor, but Amazon is all about delivering what customers want. In this case, they have determined that some enterprises are not ready to quit the data center cold turkey. For a number of reasons, they still want hardware on-premise. Perhaps it's out of concerns for low-latency performance, or for security or for high availability. Regardless, with the new AWS Outposts, customers can host Amazon hardware, specifically the equivalent of EC2 and EBS storage, locally.
Keep in mind that with AWS Outposts, you don't get the financial and logistical benefits of being able to scale up or down instantly, as you would with the Public Cloud. Still, you can re-use your scripts and your knowledge of AWS management, but for on-premise computing. This is Amazon's answer to Azure Stack, which is a similar implementation from Microsoft. AWS also allows you to run VMware on the Outposts, which brings last year's VMware on AWS offering full-circle, back to the data center.
In some ways, Outposts are reminiscent of the Intelligence Community's Secret Region, an AWS-compatible Data Center hosted on the government's property and operated by AWS-certified government employees. This isn't exactly a national secret… the CIO of the CIA discussed it openly at AWS Public Sector in 2017, and said it was "the best decision we've ever made." Now enterprises can make a similar decision.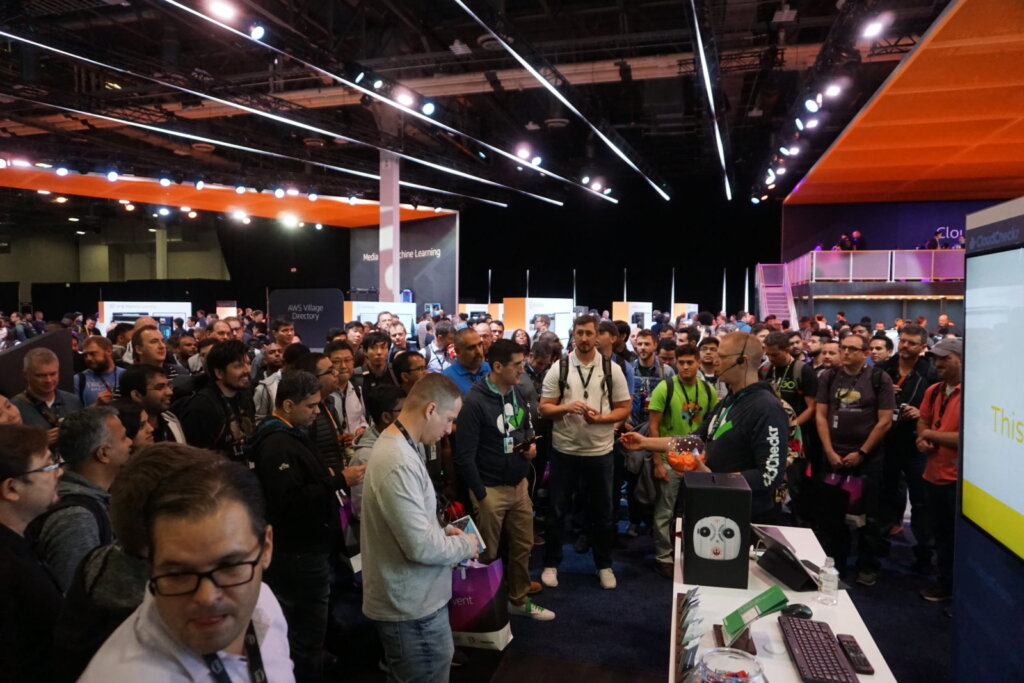 Even More Instances!
AWS is always releasing new instance types. If you're taking the AWS certification exams, as dozens of CloudCheckr employees recently did, you might have heard of the mnemonic Dr. McGIFT Px, an acronym coined by the trainers at A Cloud Guru to help you remember each instance type. Well, be prepared to add a few more letters. One of the newest EC2 instance types is A1, featuring ARM processors for the first time instead of Intel. C5n enhances the C5 family with 100 Gbps of networking throughput. Finally, P3dn instances also offer 100 Gbps of networking throughput and can provide 8 NVIDIA Tesla V100 GPUs with 32GB of memory each, 96 custom Intel Xeon vCPUs and 2 TB of local SSD storage. These will be in high demand for High Performance Computing (HPC) simulations. As Corey Quinn put it, Amazon has declared war on the Alphabet… not Google's parent company, but the actual 26 letter alphabet! It gives new meaning to the Amazon logo, with the smiling arrow pointing from A to Z. What will AWS name their instances when they run out of letters? Will they resort to Greek?!
Serverless vs. Containers
Despite the new instances, AWS is also doubling down on Serverless, with an enhancement for Lambda called Lambda Layers. This allows developers to more easily manage code that can be shared between different Lambda functions and allow the use of custom runtimes. If this looks similar to Containers with Docker, there's a reason. This comes at a time when developers are considering moving from EC2 instances to Containers, and now AWS can encourage them to skip containers altogether in favor of Lambda with Layers. Personally, this means I can run my existing PHP code on Lambda Layers without having to port it to JavaScript, Python or another Lambda-native language.
Database Wars
Amazon may be in a head-to-head battle with Microsoft Azure for cloud computing services, but they have their eyes focused on Oracle when it comes to databases. Just like with Lambda, Amazon is trying to remove the complexities, not to mention high price, of running a database on Oracle. Between RDS, Aurora, DynamoDB, and Redshift, AWS has solutions for OLTP, MySQL, NoSQL, and OLAP / Data Warehousing, respectively. Amazon Aurora Serverless was announced a year ago and is another example of removing complexity, as users could simply pay for the MySQL database functionality they needed.
This year, AWS introduced DynamoDB On-Demand, which does a similar job for NoSQL databases. If you have a low-volume NoSQL database, you don't have to pay for 24×7 service. And if you want to perform database transactions, they also introduced support for DynamoDB native, server-side transactions with atomicity, consistency, isolation and durability (ACID) all of which means you can do business with DynamoDB and be confident your data is safe. When you combine these enhancements for DynamoDB and last year's Aurora Serverless, it's pretty clear that AWS wants you to have no excuses for abandoning Oracle, even as AWS moves to abandon Oracle themselves!
One thing is clear. AWS has a lead on Microsoft Azure and Google Cloud Platform, and they are pressing harder than ever before on the gas pedal. In 2019, Amazon is looking to turn attention toward its security capabilities, with the announcement of a brand new conference called AWS re:Inforce. The conference will take place at the end of June in Boston.
See Our Latest Events
Find out where we're heading next or "meet us" virtually in an upcoming webinar.
Cloud Resources Delivered
Get free cloud resources delivered to your inbox. Sign up for our newsletter.
Cloud Resources Delivered
Subscribe to our newsletter