As your cloud environment grows, so does the complexity of managing it. Myriad factors from fluctuating resource utilization to data network traffic to evolving instance purchasing options make cloud management a full time job—one that is best shared.
Over the past few weeks, we have explored a few of the most meaningful ways an organization can lower their public cloud costs based on Gartner's recent paper, Ten Moves to Lower Your AWS IaaS Costs. We added our insight and tips for helping cloud-based organizations with:
As one might expect, each of these tactics requires strategic thinking, and the right team to help drive your cloud initiative. In this final piece, we'll explore the foundational element that can ensure the success of your cloud cost optimization tactics: a Cloud Center of Excellence.

Key Goals of a Cloud Center of Excellence
As Gartner explains in their report, a "Cloud Cost Optimization Center of Excellence" should encompass a range of finance and procurement roles, responsible for managing things like billing and tagging strategy, RI purchasing, cloud infrastructure architecting, automation. These components are important for any organization looking to make the most of their cloud spend. Finance and operations teams certainly have the biggest responsibility to centralize and manage control over cloud spend. To control costs, they may band together to form what's known as a Cloud Center of Excellence (or CCoE).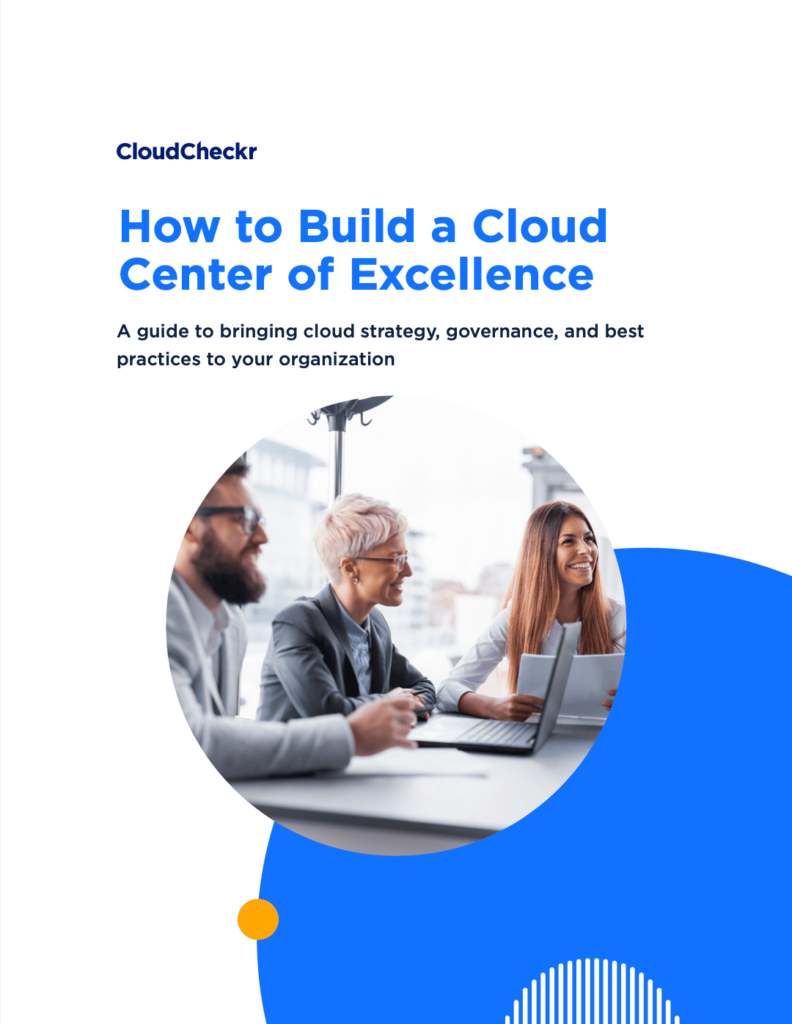 Download How to Build a Cloud Center of Excellence.

However, as critical as those distinct cost-driving elements are, organizations should be sure not to neglect cloud security considerations, which also can impact cloud ROI just as significantly. Security breaches, for instance, can become extremely costly and completely negate any cost-saving efforts. Additionally, ensuring a clear system of permissions can help enforce policies and monitor changes across your cloud environment that may discreetly become cost catalysts. Continuously monitoring cloud activity and configuration changes can help avoid common cloud pitfalls that lead to burgeoning costs.
Lastly, ensuring the involvement of IT and DevOps teams, before and beyond deployment, can ensure the success of your cloud initiative. As Drew Firment explained in a recent piece about the Capital One cloud transformation, a full commitment to innovation will ultimately make or break the success of your cloud. Short term incentives won't work for organizations looking to gain momentum, agility, and advantages in the cloud. The involvement of the IT team is crucial to ensure a well-aligned and executed technology approach—for instance, understanding which cloud provider, services, and instances to leverage for which applications.
Clearly, to invest in a Cloud Center of Excellence requires involvement from across the organization to ensure cloud strategies align with business goals, while achieving cost optimization potential. Finance and procurement, security, and IT teams are all important stakeholders in successful and cost-efficient cloud environments.

Aligning Teams for Success
To foster efficient collaboration between teams, organizations need to maintain complete visibility across their cloud infrastructure. Beyond basic data aggregation, finance, IT, and security teams need deeper insights about the dynamic components across their environment.
Unifying actionable security and cost insights in one comprehensive cloud management platform is an important step towards making the most of your cloud investment. CloudCheckr offers teams the visibility, control, and information they need to align efforts and optimize their investment.
Explore CloudCheckr free for 14 days to see how deeper insights can drive organizational efficiencies for your teams.

Want More Insights into Lowering Your Cloud Costs?
See our upcoming and on-demand webinars and check out our resource library for more cost management resources.
Cloud Resources Delivered
Get free cloud resources delivered to your inbox. Sign up for our newsletter.
Cloud Resources Delivered
Subscribe to our newsletter