A FinOps, or cloud financial management, methodology helps organizations align cloud adoption and investment with business strategy and promotes enterprise-wide accountability for cloud spending. FinOps requires unique strategic expertise, facilitation between disparate groups within an organization, leveraging of transferable learnings from other organizations, and a data-driven approach to monitoring success.
These concepts all make FinOps an ideal program that MSPs can drive.
FinOps is an important companion to any service provider's offering of cloud cost management.  For MSPs, the opportunity lies in the ability to develop and grow customers' FinOps practices by using data and strategic collaboration to help connect advanced cost management metrics to their wider business goals. 
On-Demand Webinar: 5 Reasons to Offer FinOps
Learn from our experts how and why to add FinOps to your services.
Watch Now
Why add FinOps to your portfolio of managed services? If you're not already bringing FinOps to your customers, you could be missing out on a key business opportunity. Here's are the five major benefits of offering managed FinOps services:
1. Deliver greater value to your clients
FinOps principles are designed to drive deeper overall cloud savings and cost optimization through more intense focus, better strategy, and greater collaboration. Naturally, this is where it all begins: adding to your toolkit to give your customers something new and useful.
But FinOps is about more than optimizing costs and finding discounts. Enhancing your cost management services with FinOps powers a high-value strategy of delivering more efficient cloud services, leading to improved business results.
2. Become your customers' go-to strategic partner
Bringing high-value services to clients is only part of the equation. You need to show clients that only you can be that valuable resource for your customers by offering your unique perspective and expertise.
FinOps requires strong cross-functional alignment, executive engagement, and a business strategy with a focus on cloud operations and growth. With this alignment in place, you can make deeper, longer-lasting connections with more stakeholders across the enterprise, increasing the likelihood of further growing client relationships over time. 
3. Create more confidence in the cloud
Concerns about unexpected overruns and the ability to optimize costs remain key barriers to cloud migration. As a result, bringing cloud financial management best practices to customers is tough to do when they still have so many questions about whether the cloud is right for them.
Driving FinOps practices provides better cloud visibility and more meaningful levels of savings. These insights can help alleviate stakeholders' fears, which can encourage them to move more workloads to the cloud even faster. By explaining key concepts around cloud finances to clients, you can serve as a resource to ease the transition from on-prem to the cloud and promote the FinOps journey.
4. Easily attract and retain talent
With FinOps built into your service portfolio, you can create a path for advancement for current employees and open the door to recruit finance and cloud experts.
People are the lifeblood of any business, and they are one of the first investments you should consider when implementing new service offerings like FinOps. Enabling key talent to learn and demonstrate new methodologies like FinOps creates stronger employee engagement and satisfaction for MSPs themselves. 
5. Compete and differentiate your business in the marketplace
As more and more businesses enter the cloud services space, creating differentiated service offerings is increasingly important to attract new customers. FinOps presents you with the opportunity to engage new and existing customers with unique value propositions and methodologies.
However, FinOps is more than another offer to add to your services menu. It requires decision-makers and team members in your organization to cultivate a deeper understanding of cloud financial management, combined with messaging and strategy that align with your clients' business needs. When all of the above pieces come together, you stand out by demonstrating your position as a thought leader, showcasing your team's expertise, and helping the customer achieve success on their cloud journey. 
Why bring managed FinOps to your customers?
In our upcoming Cloud Infrastructure Report for 2022, we found that 75% of enterprises surveyed believe that FinOps is important to cloud success. Most companies are trying to implement some kind of FinOps, but only 10% have a mature practice. Yet MSPs have the potential to play a crucial role in an organization's FinOps efforts. Of companies that use an MSP and do FinOps, 83% say that their MSP is involved in that FinOps practice.
The answer here is obvious: FinOps will soon be a must-have (rather than nice-to-have) service for MSPs. MSPs that recognize the benefits of FinOps today will be able to meet customer demand. Read the rest of our white paper, How to Bring Managed FinOps to Your Customers, to learn more about introducing FinOps to your services.
Bring Managed FinOps to Your Customers
Get the white paper to learn the steps to take to create a robust FinOps offering.
Download the White Paper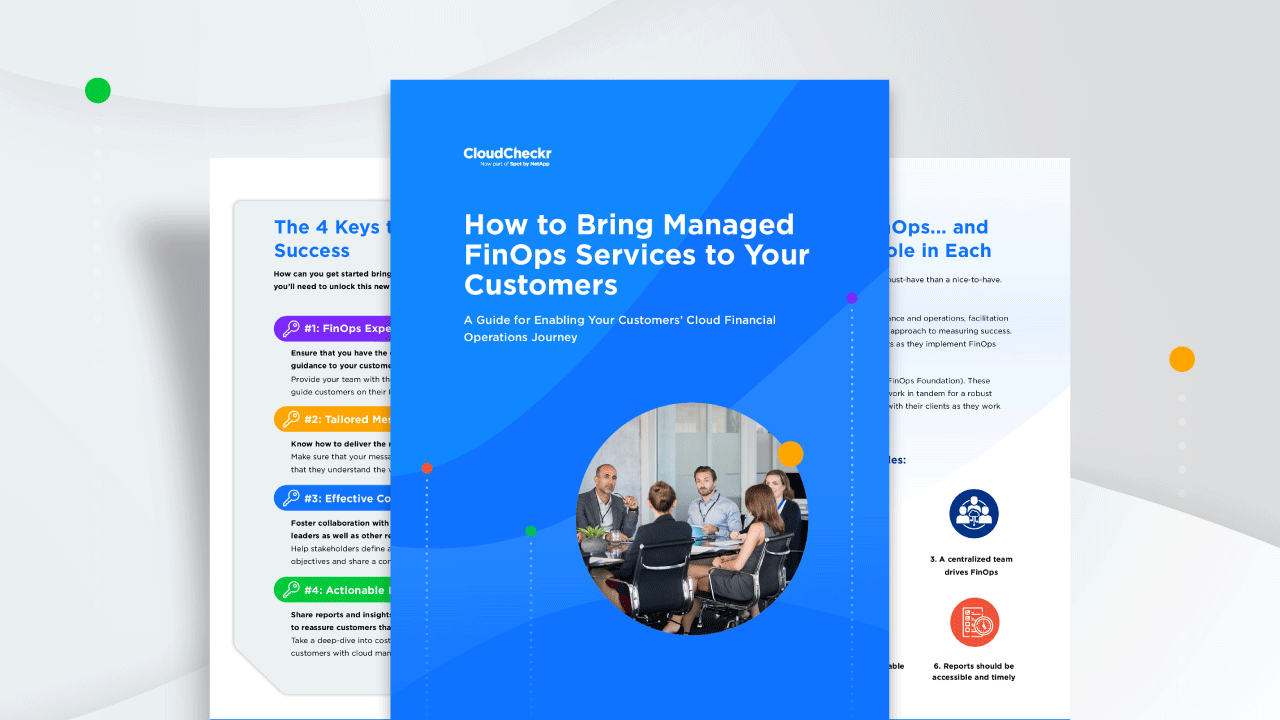 Cloud Resources Delivered
Get free cloud resources delivered to your inbox. Sign up for our newsletter.
Cloud Resources Delivered
Subscribe to our newsletter