More businesses are spending more money on technology, according to recent research from Enterprise Strategy Group (ESG) and CloudCheckr. Researchers sought to uncover the customer demands driving changes to IT partner business models and where the real opportunities lie in 2022 for both customer and partner growth alike. Fortunately, there's a lot that cloud managed services providers can learn from what enterprises had to say.
Learning about enterprise IT investments
Of 664 business and IT professionals from mid-market and enterprise-class organizations that ESG and CloudCheckr surveyed, 53% reported that they are spending more on technology to implement long-term strategies. Those strategies, they said, would give them more flexible and resilient IT infrastructure to mitigate or prevent future major business disruptions, like the COVID-19 pandemic.
In particular, these organizations are investing in public cloud. Nearly half (47%) said that they anticipate 40% or more of their infrastructure in the public cloud in the next 36 months, and 21% are there already. 
When asked about their cloud usage in 2021, 45% said that they've adopted a cloud-first policy. In other words, if they deploy a new application, they will do so using public cloud services unless someone makes a compelling case to deploy it using on-premises resources.
With cloud usage and spending on the rise, enterprises need experts who can help them manage their investments — including cloud costs, resources, and security — wisely.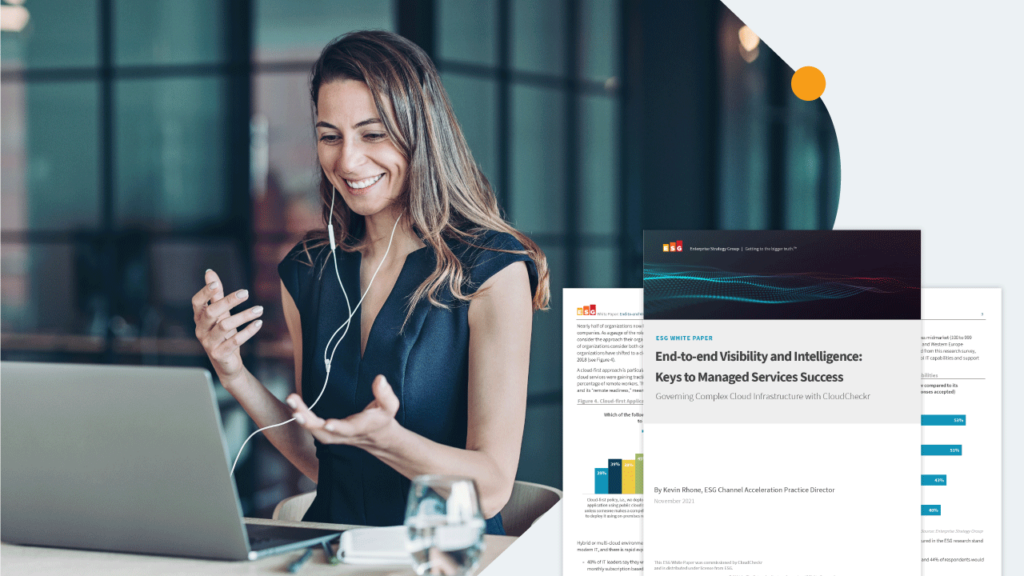 Download the report
See our latest report, End-to-end Visibility and Intelligence: Keys to Managed Service Success, for new data on why managed service success starts with providing superb customer experiences, driving operational efficiencies, and increasing employee productivity.
Where do cloud managed services come in?
Many of these organizations are turning to managed service providers (MSPs) to ensure that they see success in their technology strategies and get more out of their public cloud investments. MSPs report that their customers are asking them to move workloads to the cloud or even across clouds in multi-cloud deployments.
Unfortunately, not all of these IT partners are prepared to meet this growing customer demand. Managed service providers reported issues such as:
Inefficient manual processes for billing and support that affect response times and service levels

Lack of understanding from prospects on the costs and benefits of cloud-based managed services vs. on-premises IT 

Undifferentiated service offerings that make it difficult to stand out in a saturated market
On the other hand, today's leading IT partners are making investments and offering services that prevent them from seeing such issues. So what makes them different?
Uncover the keys to cloud managed services success
CloudCheckr and ESG are teaming up to discuss the survey's findings and report in our upcoming webinar Cloud Managed Services in 2022: What Works, What Doesn't, and Untapped Opportunities.
Attendees will learn: 
Specific cloud capabilities in highest demand by cloud end-users 

Today's most common roadblocks to profitable service delivery and how a cloud management platform (CMP) can help

Opportunities around automating end-to-end managed service operations
Join CloudCheckr's Head of Global Partner Development and ESG's Channel Acceleration Practice Director as they reveal new findings about the keys to efficient, profitable managed services delivery. 
Watch the webinar live on January 20, 2022 at 11:00 a.m. Eastern and catch it later on-demand any time.
Cloud Resources Delivered
Get free cloud resources delivered to your inbox. Sign up for our newsletter.
Cloud Resources Delivered
Subscribe to our newsletter