CloudCheckr is proud to have earned our new designation as an Amazon Partner Network Advanced Technology Partner.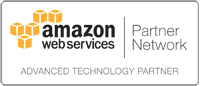 The entire CloudCheckr team has worked hard to build our industry leading solution and this designation helps recognize their achievements. We also thank our many customers and users – your support and input helped shape our solution and make this possible.
For those who have not used it already, CloudCheckr is a SaaS solution that, through continuous monitoring, provides data center quality visibility into the infrastructure layer of public cloud users.
It automates resource discovery, cost allocation, change tracking, security alerts, and identifies performance concerns. CloudCheckr performs these functions, reports results, and makes mitigation recommendations on a daily basis. It stores information for all aspects for the life of the project to facilitate audit and compliance fulfillment.
The goal of CloudCheckr is to reduce time spent managing and money spent running your public cloud infrastructure.
We invite you to try it and start saving today!
Cloud Resources Delivered
Get free cloud resources delivered to your inbox. Sign up for our newsletter.
Cloud Resources Delivered
Subscribe to our newsletter