It's been an exciting few months at CloudCheckr now that we're part of the Spot by NetApp family. Since joining, we've continued to enhance CloudCheckr's core cloud management capabilities, and we've been working to integrate CloudCheckr within Spot's CloudOps portfolio to deliver more value to our customers as they scale their journeys in the cloud.
To this end, we are thrilled to announce the first integration between CloudCheckr and Spot Eco.  This integration enhances CloudCheckr's cloud visibility and cost analysis capabilities with Eco's automated optimization of AWS Reserved Instances (RIs) and Savings Plans throughout their lifecycle – all from within the CloudCheckr platform.  Through this integration, Managed Service Providers (MSPs) will be able to automatically reduce their cloud costs and increase their profit margins – without any manual effort, management overhead, or need to commit to large, long-term cloud purchases.
What's the business case for optimizing RIs and Savings Plans?
With MSPs seeking to grow their cloud service businesses in an increasingly competitive environment, strategies that drive cost efficiency and help enhance profit margins are more crucial than ever.
While many MSPs utilize RI and Savings Plan pricing models when purchasing cloud resources, the process is far from optimal. MSPs often leave 20-30% or more in cloud savings on the table due to manual processes, a fear of risking large capital outlays, limited flexibility with pricing models, a lack of integration with customer pricing strategies and misalignment with their varying business needs.
RIs provide discounted pricing and guaranteed capacity for applications with a one- or three-year commitment. There are various discounted purchase options: upfront, partial upfront, or no upfront. In addition, Savings Plans offer lower prices compared to on-demand pricing, in exchange for a one- or three-year commitment.
Why is optimizing the commitment portfolio so complicated?
To take advantage of these pricing models and achieve maximum savings, MSPs need to fully understand the nuances of each of the plans. MSPs also need the resources and agility to trade in the AWS Reserved Instance Marketplace – a complex, risky, and time-consuming task that includes reviewing and analyzing thousands of RI listings each and every month.
Furthermore, MSPs must be able to anticipate their customers' future resource needs. If an MSP's customer wants to utilize a new instance type, but the MSP currently owns standard RIs with a three-year commitment instead of convertible RIs (which let you exchange instance types), they are stuck. Three years is a very long time in today's cloud world.
Unanticipated changes to business and capacity needs add yet another layer of complexity for MSPs when planning and managing cloud purchasing strategies. COVID-19 is a very real-life example where demand for digital services dramatically increased or decreased overnight for millions of businesses, completely upending the market for cloud resources. And all these challenges are further exacerbated when servicing a large and diverse customer base—all with different business needs.
Given the scale and complexity, creating and managing a balanced portfolio of RIs and Savings Plans is near impossible without machine learning and automation capabilities. Without intelligent technology, MSPs will likely end up with greater resource inefficiencies and waste, increase their financial exposure, and lose money.
CloudCheckr with Eco: Built-in visibility, intelligence and automation to maximize savings
With CloudCheckr and Spot Eco, MSPs don't need to spend time trying to understand cloud pricing models or taking risks on the Reserved Instance Marketplace. They don't need to predict future capacity needs for hundreds of customers or try to build and manage a large yet flexible commitment portfolio to support them. They don't need to manage multiple tools. And they also don't need to commit to large, long-term purchases to achieve greater savings.
With a dashboard integrated within CloudCheckr's UI, Eco automates RI and Savings Plan purchasing, continuously keeping the portfolio diverse and optimized to achieve the best pricing for cloud with the greatest flexibility and maximum utilization, all at scale. Moreover, with Eco there's no need to change anything about the compute or applications engineers use today. When combined with CloudCheckr's resource right-sizing insights, MSPs can achieve the deepest cost savings possible.
CloudCheckr with Eco does all the work for you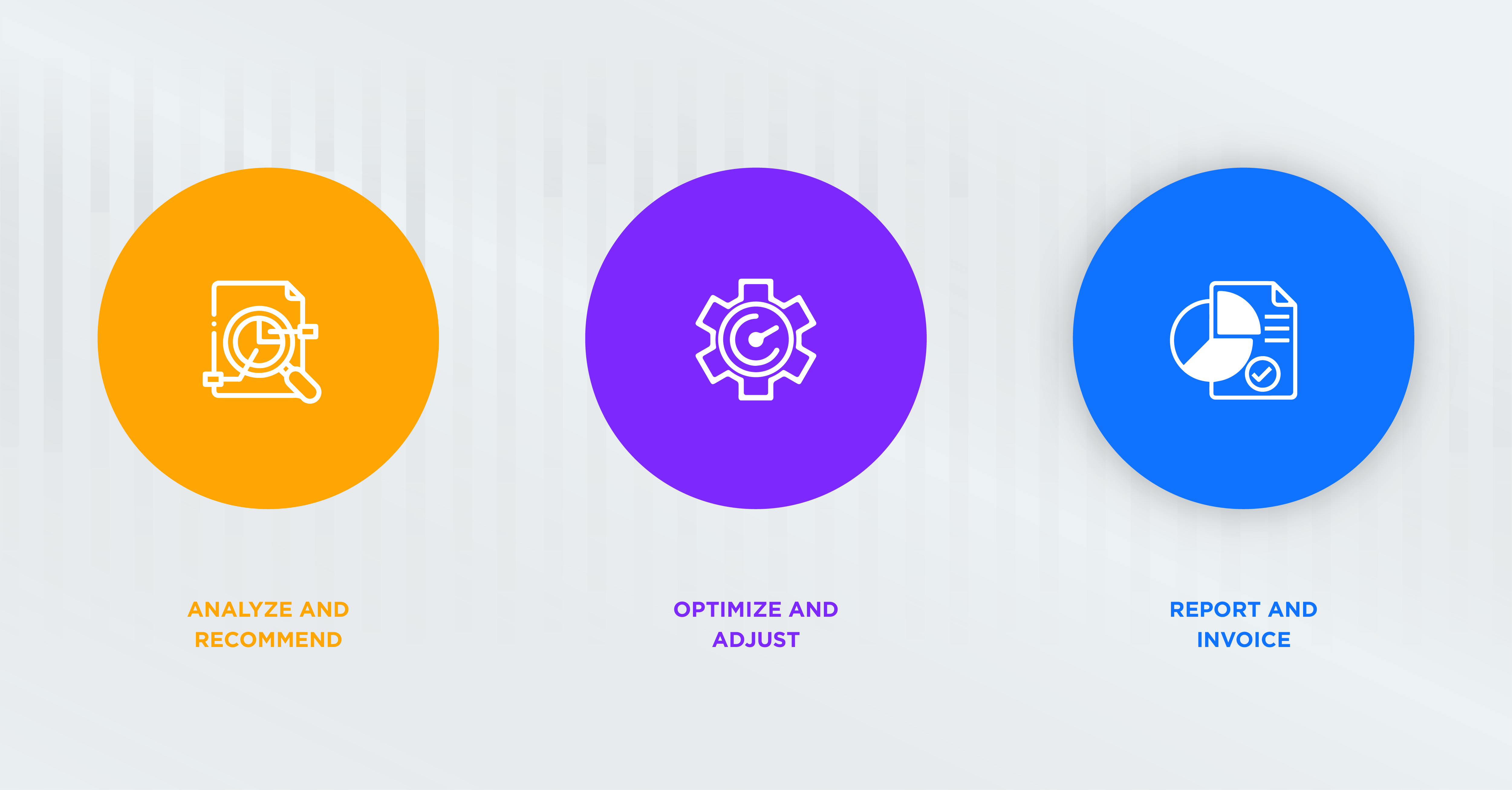 Analyze and recommend:
Eco analyzes cloud usage by MSPs and their customers by region, instance family, lifespan, and scale to gain a holistic long-term view of resource use across all linked accounts. Eco also assesses the effectiveness of pre-existing RIs and Savings Plans and adjusts the portfolio accordingly.
Utilizing this analysis, together with years of detailed marketplace and industry usage data, Eco's machine learning and predictive modeling algorithms determine an optimal purchasing strategy, containing the right mix of RIs and Savings Plans to meet everyone's needs.
Optimize and adjust:
Eco then automatically creates and dynamically optimizes the portfolio to deliver maximum utilization and savings with minimal financial lock-in and risk. To achieve this, Spot Eco, operating within the MSP's budget and strategies, continuously seeks out the best deals on third-party RIs in the Reserved Instance Marketplace. It also offloads unused RIs. These tactics generate massive savings – even for shorter-term projects (e.g., three to six months) – without the risk of long-term commitments. Whenever cloud capacity or resource requirements change, Eco easily adjusts the commitments to ensure goals are met.
Report and invoice:
Eco enhances CloudCheckr's core cloud visibility and reporting, providing detailed analysis of the commitment portfolio – including what is being spent and by whom, with current, historical, and projected cost and usage visualizations across all cloud deployments.
To complete the process, CloudCheckr gives MSPs the flexibility to leverage the cloud savings generated to increase profit margins and/or apply savings to their customers directly through its billing engine.
Learn more about CloudCheckr + Spot Eco
Optimizing an RI and Savings Plan portfolio to support the needs of a large customer base requires expertise interlocked with the right tooling. The beauty of this integration is that it combines two industry-leading products, both infused with years of experience and market intelligence, both market-proven and used by thousands of organizations worldwide, to deliver the optimal solution to help MSPs continuously maximize their savings on cloud resources.
See the integration in action
Reach out to learn more about how CloudCheckr with Eco can help optimize your RI and Savings Plan portfolio.
Contact Us
Cloud Resources Delivered
Get free cloud resources delivered to your inbox. Sign up for our newsletter.
Cloud Resources Delivered
Subscribe to our newsletter