Managed service providers (MSPs) typically see low margins from reselling cloud services alone — but there is always potential for growth. MSPs should ask themselves how they can amplify cloud resale margins and drive bottom-line growth.
Beyond growing Amazon Web Services (AWS) margins, MSPs may be able to scale volume or add services for their customers. Understanding the most critical drivers of margins for MSPs and resellers will enable maximum returns and also improve business growth. MSPs can review business processes and determine where they can become more cost- and time-efficient.
Growing AWS margins: How do you get started?
Billing structure is at the core of the AWS reseller experience. This is an ideal place for MSPs to start when looking to optimize margins. Cost allocation and management is one of the biggest opportunities for resellers and end users to recognize cost savings, but it is also one of the most complicated pieces to manage.
As AWS resellers consolidate billing for multiple accounts within their management console, the task of passing appropriate costs along to end customers creates an interesting challenge. While grouping accounts ensures everyone pays the lowest rate possible, it also means individual accounts can end up with lower rates than they should — which is less than ideal for resellers and MSPs.
Amplify margins and drive a profitable cloud practice
CloudCheckr can help drive bottom-line growth and create profit margins of 20%-35% or more.
Download the white paper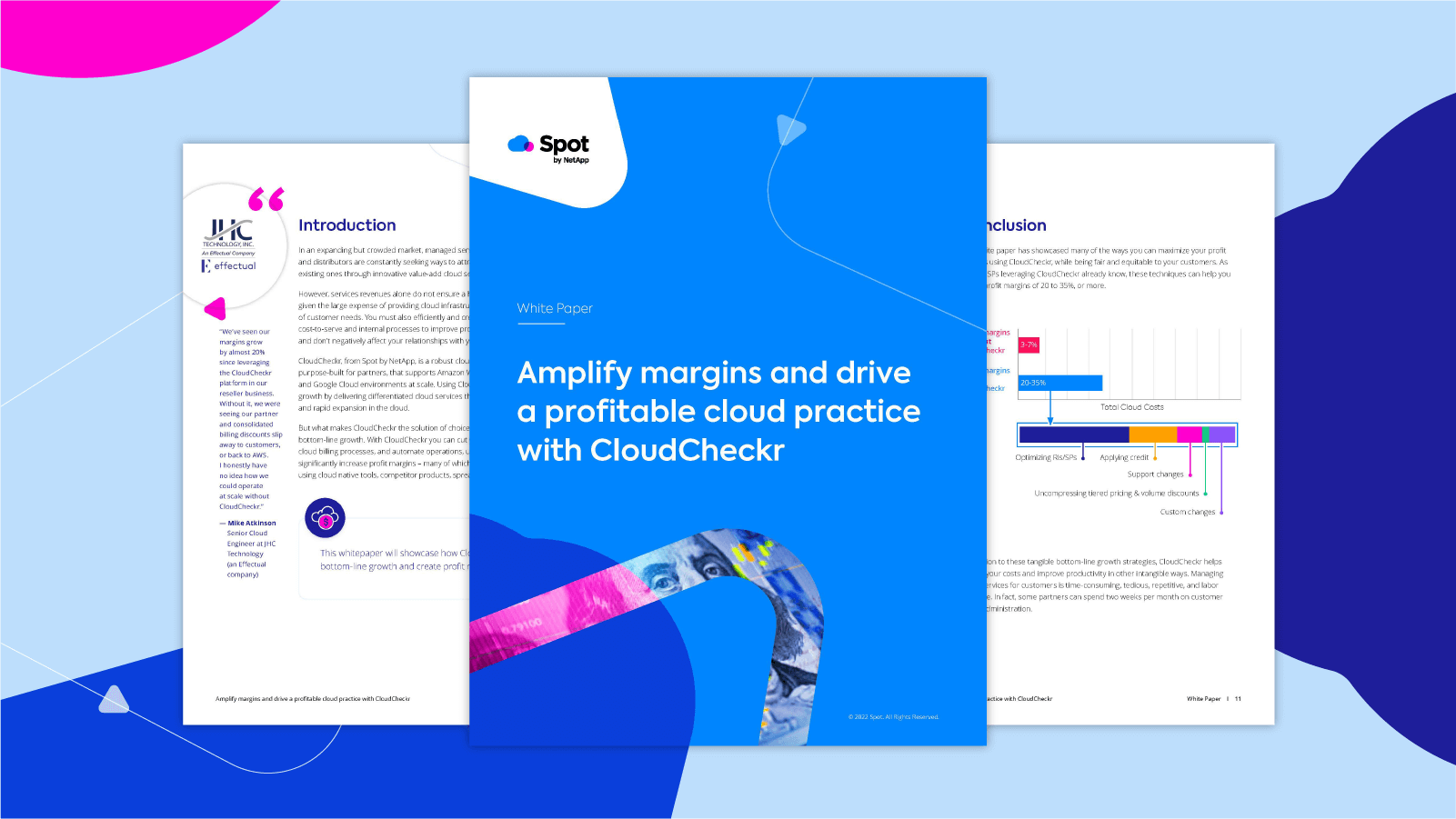 Optimize your margins with cloud management
A cloud management platform like CloudCheckr, from Spot by NetApp, can help make cost allocation easy. "List Pricing" ensures that a single AWS account will pay for its fair share of AWS resources while enabling MSPs and resellers to maximize their margins. Blended and unblended rates also create a lot of complications in this area.
Here are four key factors that can help you optimize your AWS margins as well as what CloudCheckr offers in each area:
1. Pro Forma Cost
Knowing what your customer usage costs would have been if they weren't incorporated within Consolidated Billing Families should affect how you bill them. List Cost visibility and control within CloudCheckr enables MSPs and resellers to factor in custom variables that ensure fair costs for customers, while allowing them to realize cost savings for account families.
2. Reserved Instance Unsharing
Reserved Instance unsharing can help resellers manage and optimize Reserved Instances across payee accounts. As a result, this facilitates RI allocation to account families based on customers, to minimize the potential for unused or wasted instances. Properly allocating RIs within payee accounts ensures that MSPs achieve the benefits of discounted rates.
3. Pricing Tier Uncompression
Pricing for AWS services like S3, EC2 Data Transfer, CloudFront, and others are tiered, decreasing in price as additional accounts are purchased. Although savings of scale (as additional accounts are added) are unlikely to cause large increases in margins for uncompressing service fees, business support cost uncompression is where MSPs and resellers can really see greater opportunity for growing margins.
Because MSPs must buy AWS business support for an entire consolidated billing family at cost for all accounts, uncompressing support charges can help resellers see the greatest amount of increase in margins. Custom Charges within CloudCheckr enable resellers to bill payees for the appropriate amount, while increasing margins.
4. Opportunistic RI Purchasing
Anticipating end customer needs can also facilitate opportunities for MSPs to buy RIs for their payee accounts in advance. Buying RIs at the payer level for a portion of anticipated account usage, while calculating pro forma cost for end users, can enable higher reseller margins. Historical usage data and purchase recommendations within CloudCheckr, with the Spot Eco integration, can help MSPs make more informed decisions about buying instances safely and efficiently.
Grow margins and increase profitability with CloudCheckr
CloudCheckr enables MSPs and resellers to pull in their Detailed Billing Report at the master account level to gain visibility and control across their environment, and end customers' environments. Flexibility in billing through custom cost capabilities ensures accurate and fair costs for end users and enables increases in margins for MSPs as well.
"CloudCheckr has a lot of intelligence under the hood which enables it to produce a simple and clear AWS bill for our customers. Now they can see it all on one sheet of paper instead of forty. Billing would be a two-day job and a complete mess without CloudCheckr."

Jon Busey, Founder, B-Tech
Comprehensive reporting within the CloudCheckr CMx dashboard offers many perspectives on how exactly MSPs and resellers benefit from things like pro forma list price, RI unsharing, cost uncompression, and opportunistic RI purchasing. Monthly Summary, List Cost Analysis, and Savings Analysis reports make it easy for MSPs to see and share results quickly.
Optimize your MSP cloud costs, billing, and operations
To increase profitability and grow AWS margins, MSPs must do more than look at new initiatives to drive revenue growth. They must also optimize their cloud costs and their internal processes. They can do this by:
Improving cloud unit economics to consistently drive down how much they pay for cloud
Developing an effective pricing and billing strategy to accurately and efficiently invoice their customers based on the defined pricing approach
Optimizing internal operations to see greater efficiency and scalability through automation and standardizing service delivery
Download the Optimize Your Business white paper to learn how to achieve these goals and drive a profitable managed services business. 
Optimize your MSP business
Learn how to overcome 3 challenges to increasing cloud profit margins and optimizing internal processes.
Download the white paper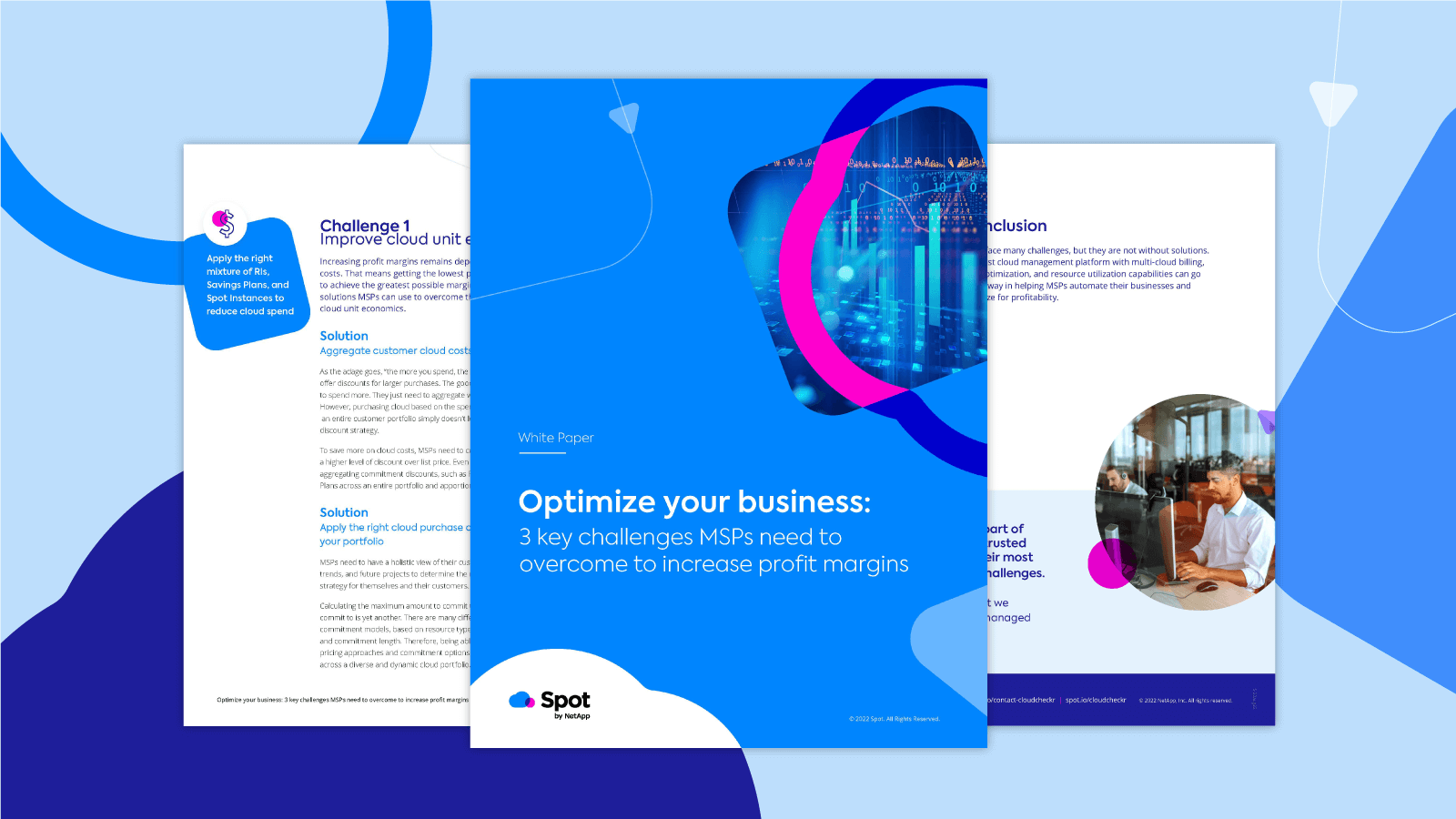 Cloud Resources Delivered
Get free cloud resources delivered to your inbox. Sign up for our newsletter.
Cloud Resources Delivered
Subscribe to our newsletter