As a managed service provider (MSP), reseller, or consultant, your customers rely on your expertise in all things cloud. But they need more than the right technology to receive a return on their cloud investment. Customers require a holistic approach to their cloud financial management to use their cloud budgets efficiently, continually optimize cloud spend, and drive the business value of the cloud over time.
What can you provide for your customers to help them optimize costs, standardize operations across the organization, and drive better business decisions at every step of their cloud journey?
The answer is FinOps.
What Is FinOps?
FinOps, short for Cloud Financial Operations, is a practice that combines data, organization, and culture to help companies manage their cloud spend. 
More than simply managing and monitoring costs, FinOps takes a holistic view of the cloud's business value tied in with an organization's objectives. An effective FinOps practice aligns advanced cost management metrics with business metrics to help companies manage their cloud spend. These metrics may include:
revenue and profit

development schedules, requirements, and costs

business units and operations

growth projections

other long-term analysis 
Another key difference lies in who is involved in this practice. Day-to-day cloud cost management may fall squarely on the shoulders of DevOps engineers, cloud architects, and other technical personnel. FinOps, on the other hand, gathers stakeholders from the C-suite as well as leaders across technology, finance, and business to examine the data and make informed decisions that tie cloud usage to the objectives of the business.
As cloud costs become an increasingly material expense, FinOps is gaining momentum as a critical function and program within organizations. Anyone can potentially implement FinOps. Yet although it's starting to gain traction, many IT organizations haven't started down the FinOps journey yet. It's not because they don't have the need, but often because they may not yet understand the value of FinOps or have the skills to implement it.
This presents an opportunity for MSPs to lead the way.
Discover How to Begin Your FinOPs Journey
Find out how you can bring FinOps to your customers.
Download White Paper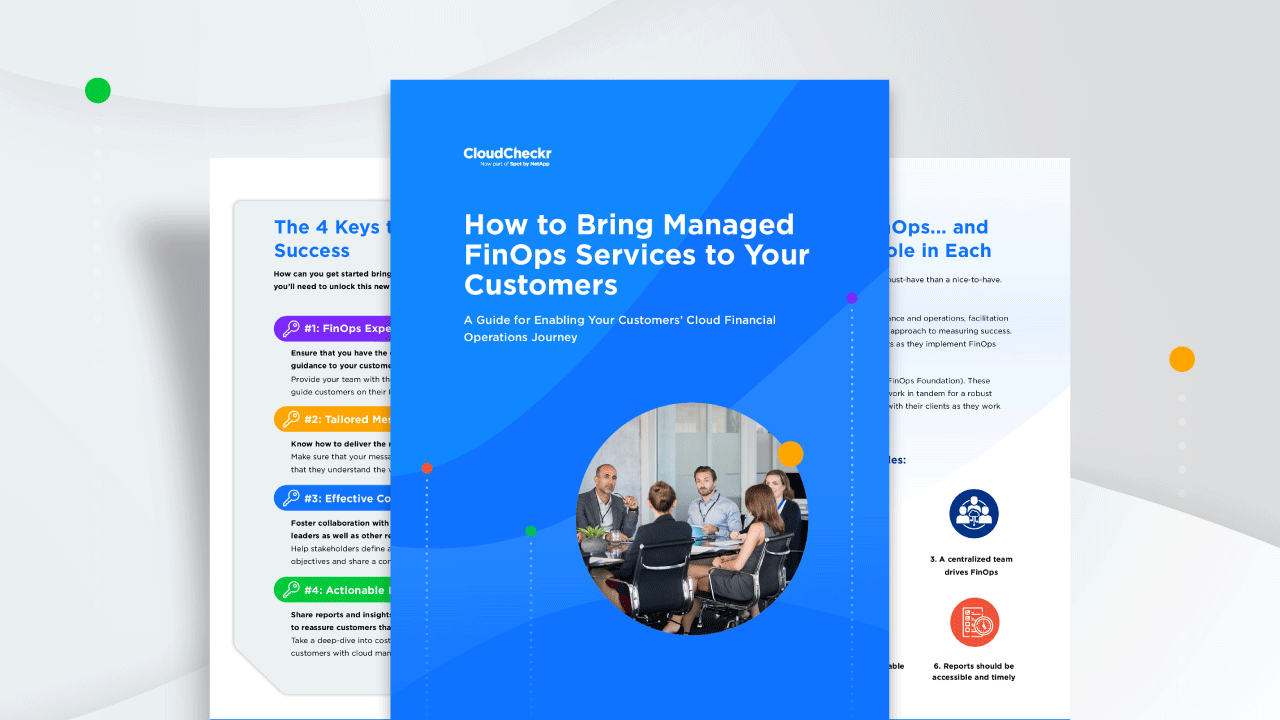 How Can MSPs Begin Offering Managed FinOps Services?
Today, MSPs often provide cost optimization services as part of their customer cloud engagement. MSPs that want to position themselves to enable managed FinOps programs for customers must understand — as an organization — that FinOps is new and different from traditional cloud cost optimization.
The more tools and education you have at your disposal, the more successful your FinOps practice has a chance to be. CloudCheckr, now part of Spot by NetApp, is here to support you as you begin your FinOps journey and help customers embark on theirs.
Our latest white paper, How to Bring Managed FinOps Services to Your Customers, will guide you through the steps you can take as a service provider to initiate a managed FinOps practice. Here's how we'll show you to introduce value-add cloud financial management services to your customers:
Understand the 5 major benefits that FinOps service offerings can bring to your business
FinOps is primed for outsourcing to an external party. So why add FinOps to your portfolio of managed services? Learn what's in it for service providers, and what it takes to get the best results.
Learn the 6 Principles of FinOps and how to use them to your advantage
FinOps is based on six key principles, as defined by the FinOps Foundation. In this section, we'll cover the six principles of a FinOps practice and what they mean for MSPs. Plus, we include checklists for each to help you begin integrating each of these concepts into your service portfolio.
Find the 4 essential keys to FinOps success
What does it take to "unlock" high-value managed FinOps services? We break it down for you with four essentials.
Discover the 1 toolset you need to bring FinOps to your customers
Ready to differentiate your managed cloud services business and unlock new levels of growth and customer loyalty? We'll tell you the one thing you need to begin bringing FinOps to customers today.
All of this information and more is available in our new white paper.
Download the White Paper
Get our latest white paper today: How to Bring Managed FinOps Services to Your Customers.
Download White Paper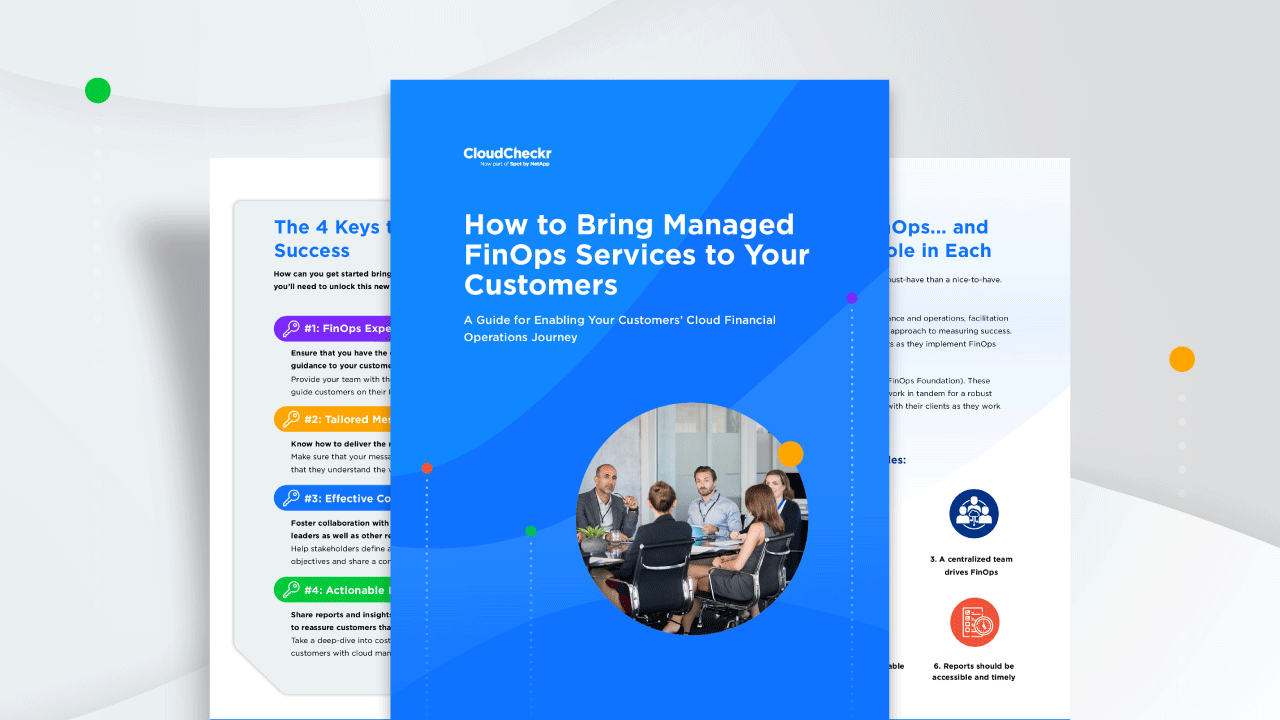 Cloud Resources Delivered
Get free cloud resources delivered to your inbox. Sign up for our newsletter.
Cloud Resources Delivered
Subscribe to our newsletter