In the past couple of weeks, Amazon, Google, Oracle and Microsoft have all made significant price changes that benefit customers. This is a testament to the competition and flexibility offered by the public cloud. Let's look at each of the vendors and their respective announcements.
AWS
For years, Amazon has been decreasing prices, with sixty such price decreases since AWS was launched. However, Google and Microsoft were able to claim the high ground by charging per minute while AWS charged per hour. That all changes on October 3rd, as AWS leapfrogs the next two closest competitors with per second pricing. There are some restrictions, so check out our earlier blog post on the subject.
Google
Not to be outdone, Google matched the per-second pricing change by AWS, and did so effective immediately. Interestingly, Google says customers shouldn't expect to see much of a difference, though, in their final bill. Perhaps this is because of the time and labor involved in manually turning off instances.
That brings up a strength of CloudCheckr, namely Automation. Now, every second counts, literally! CloudCheckr can let administrators set conditions for instances to be turned off, enterprises can save money immediately by leveraging automation. Time is money, and CloudCheckr saves both.

Oracle
Oracle wants to remind everyone of their superpower, which is that they control the licensing for Oracle, the premier database platform. Through a clever concept called Universal Credits, they allow businesses the flexibility to easily assign their on-premise licenses to Oracle Cloud. In a way, they have taken a page from Microsoft's playbook, as Microsoft does something similar for Windows licenses, but because Oracle licenses can be quite healthy, the savings from such a move can be even more significant.
Microsoft
Microsoft has been busy, with several pricing announcements coming out of their Ignite event in Orlando. One of the advantages Amazon Web Services has had over Azure has been their numerous Reserved Instance purchase options. You could make a one or three year commitment, and you could pay nothing upfront, partial upfront, or all upfront. The greater the commitment and the greater the upfront payment, the larger the discount.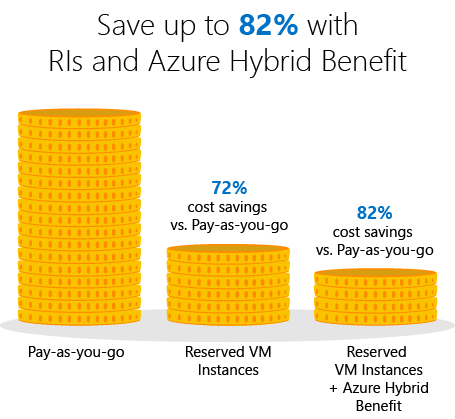 Microsoft has responded with the option to reserve Virtual Machines at a significant discount… and there is no cancellation penalty, just an adjusted refund. Why wouldn't you take advantage of this? If there's no penalty, you might as well lock in the best discounted rates. This is a clear sign that Microsoft wants to beat AWS and they're willing to use their wealth as their superpower. That could also be behind their acquisition of Cloudyn, to promote Azure at the expense of AWS and Google Cloud. However, there is a lot of value in having an independent third party evaluating your cloud and looking for ways to spend less with all of your cloud providers.
This will be fun to watch and the more competition, the better off for those who embrace the cloud.
Compare CloudCheckr to native tools
See how CloudCheckr stacks up to tools from cloud providers. Compare now.
Cloud Resources Delivered
Get free cloud resources delivered to your inbox. Sign up for our newsletter.
Cloud Resources Delivered
Subscribe to our newsletter