A few months back I spoke with CloudCheckr leadership to make the decision to dedicate some of our 2018 budget to advocating for Women in Tech. This is something that I care about in both my professional and personal lives as a woman in tech, a continuous learner, a mentor, and a maker. The leadership here at CloudCheckr knows that a lack of women in the industry can hurt progress. So doing some social good in this area was a no-brainer for us. I was stoked soon after when I was introduced to Lana Verschage, the Director of Women in Computing (WiC) at the Rochester Institute of Technology (RIT), and we quickly started talking about ways CloudCheckr can collaborate with her organization.

Calm Before the Storm
Fast forward to February, where I packed up my car at 7:00 am and headed into the sunrise toward the Louise Slaughter Building at RIT. With a purple sky and an extra-large coffee, it was a peaceful way to start the day. I was excited today because CloudCheckr had agreed to sponsor WiCHacks, an annual women-only hackathon put on by Lana and the WiC organization. I was excited that over the next 32 hours I would be spending time chatting about cloud technology and supporting young women for even a brief moment along their tech career. Plus I'd see them develop awesome projects.
I arrived and my strapped booth gear and swag to a handcart and rolled my way to the Louise Slaughter Building. This was the end of my calm morning.

A hackathon is a sprint-like event in which computer programmers and others involved in software development, including graphic designers, interface designers, project managers, and others, often including subject-matter-experts, collaborate intensively on software projects.

Inside, dozens of empty tables were popping up all around the Louise Slaughter atrium. Volunteers rushed around sorting boxes, setting up registration booths, and placing large bouquets of helium balloons around the venue. I was the first sponsor to arrive so I quickly chose a booth location and set things up.
The atrium continued to evolve as other sponsors arrived followed by busload after busload of students from all across western New York. Students came from Oswego, Ithaca, Cornell, and other Rochester universities. The excitement was building.
Young women marched by with sleeping bags, pillows, and laptops. They were ready for the marathon of learning, coding, and design to begin. In total, 174 young women flowed into the main hacking hall to start working and learning.




Students were friendly and eager. Over the next several hours I talked to over a hundred students. We talked about cloud technology, cloud management, and the CloudCheckr application. They asked how our application worked, what my job was, how I got into this line of work. Plus, they were not shy about asking for jobs and internships at CloudCheckr.
Morning turned into afternoon, and we talked through lunch and into the evening. If I wasn't talking about CloudCheckr or cloud tech, I was helping girls with project logistics up or showing them how to locate educational code resources. I went home exhausted and returned on Sunday excited to see how the projects fleshed out.

Personally…
I get a lot out of participating in hackathons and tech education. I enjoy sitting with someone to learn what they're doing and help them through a problem is rewarding.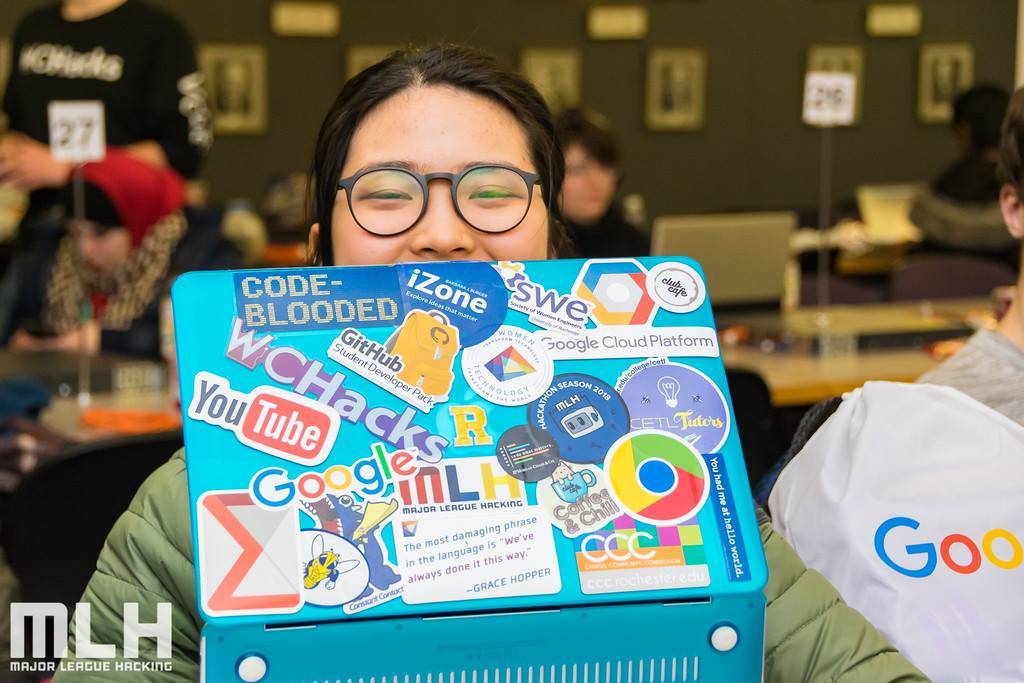 One girl I worked with was developing a cellphone app for restaurant and bar owners and their customers. The app would serve as an alert system if a patron found themselves being pursued by an aggressive date or stranger. The creator was stuck on a design problem due to limitations with location accuracy on cell phones. She and I talked it out and came up with a few user interface options that would overcome the issue, and she was back off to the races.
I would have loved to have had an opportunity to participate in hackathons when I was a high-school or college student. So now I simply enjoy helping others get the most out of it.


As for CloudCheckr…

Other WiCHacks sponsors included Wegmans, JP Morgan, and Fidelity. I chatted with them about why they come and what they get out of it. These three companies had opened up their API for participants to use and develop applications around. They told me how successful hackathon participation has been for their company and DevOps teams. Hackathon results have opened their eyes to new uses for their API, their data, and new ways to engage with consumers.
I asked if they would consider licensing viable applications made at hackathons and adopting them within their existing applications. Wegmans told me a definitive, "no." To them, if an entrepreneur could make a viable application that resulted in Wegmans selling more groceries – they saw it as an even exchange. Wegmans was there to support and applaud innovation, not take on new products that their team would have to learn to support. I can get behind that approach.




This was CloudCheckr's first hackathon sponsorship, and we did not open our API or create our own award category like JP Morgan and Wegmans had done. But after seeing how companies interact with hackathon participants, we're excited to broaden our strategy for next time. Plus, with how many hackathon projects and applications are hosted in the cloud I think our next sponsorship will involve a "Best Cloud Use" award.
Team CloudCheckr walked away with tactics for future involvement in community events, tech education, women in tech advocacy, and potential product growth. You bet we plan to make the most out of it. Plus, we have some new friends at Women in Computing and hope to speak at their weekly meetings.

Are you ready for love what you do?
At CloudCheckr, we're building the software that allows businesses to innovate and grow in the cloud. Explore our open positions and begin your career with CloudCheckr.

Photos courtesy of Major League Hacking
Cloud Resources Delivered
Get free cloud resources delivered to your inbox. Sign up for our newsletter.
Cloud Resources Delivered
Subscribe to our newsletter