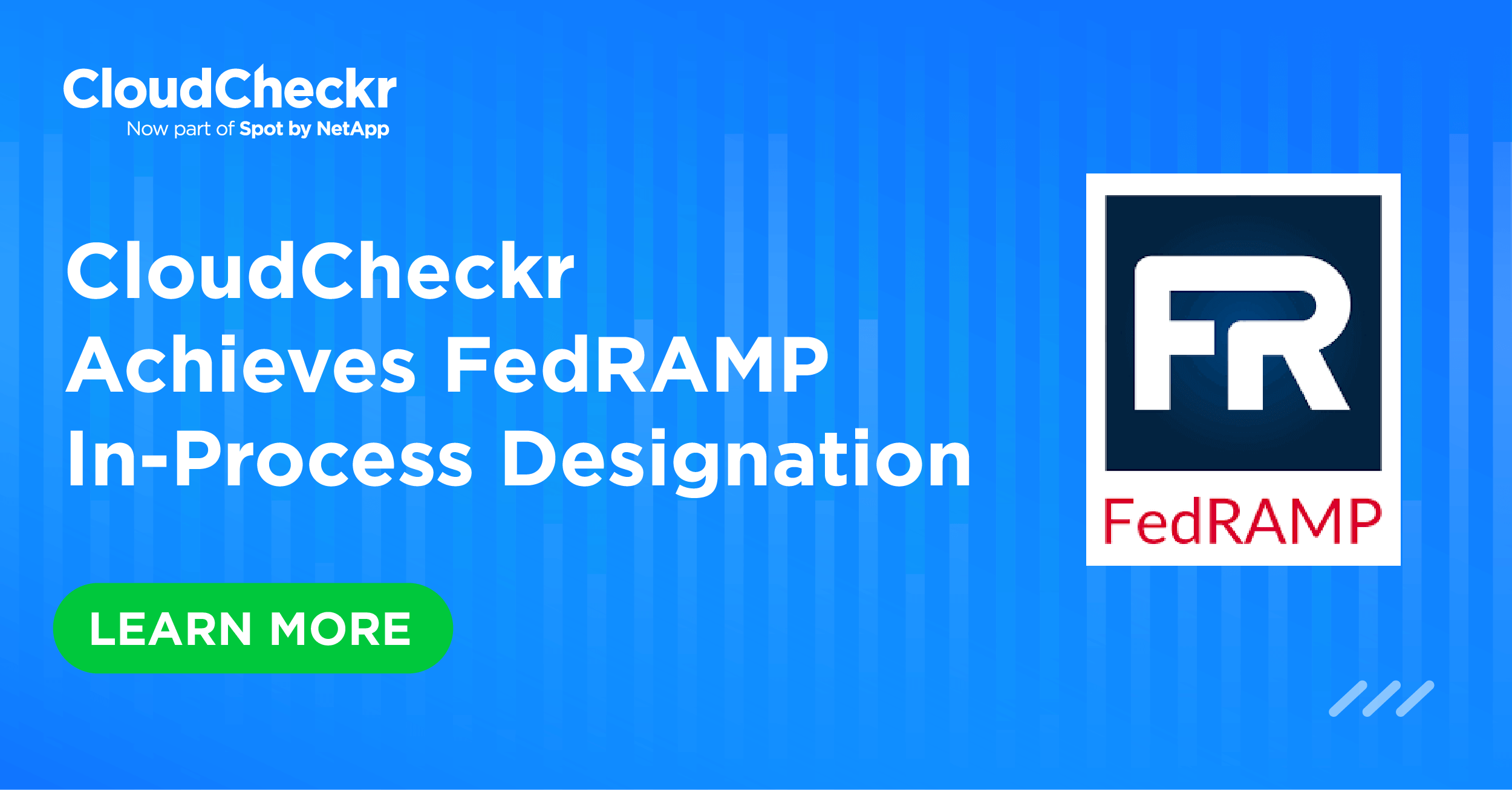 On April 27, 2022, CloudCheckr's cloud management platform achieved the FedRAMP In-Process designation, which is an upgrade from our previous FedRAMP Ready designation. CloudCheckr, now part of Spot by NetApp, is again leading the way with the designation of FedRAMP In-Process and is on the path to FedRAMP authorization.
Federal agencies are increasingly migrating workloads and initiating digital projects in the cloud due to the multitude of benefits it can deliver. But these organizations — along with their technology vendors and service providers — must ensure the cloud delivers its promised return on investment, remains financially predictable, and, above all else, achieves the strongest security posture possible.
That's why CloudCheckr is so committed to FedRAMP — a critical program to make sure federal agencies can responsibly leverage the cloud.
FedRAMP, or the Federal Risk and Authorization Management Program, provides a cost-effective, risk-based, and standardized approach for the adoption and use of cloud services by the federal government. The program, established in 2011 and part of the General Service Administration's Technology Transformation Services, emphasizes the security and protection of federal information and seeks to reduce cost inefficiencies while promoting cloud use.
To be listed on the FedRAMP Marketplace, cloud service providers (CSPs) like CloudCheckr must go through the FedRAMP authorization process. The FedRAMP In-Process designation indicates that a CSP is actively working toward a FedRAMP authorization with their federal agency partner.
The next step for the CloudCheckr platform is to achieve FedRAMP authorization. This includes having a full security assessment performed by an independent assessment organization as well as having an agency grant an authorization to operate (ATO) for the cloud offering. Post authorization, providers are continually monitored to ensure that they are maintaining a security authorization that meets the FedRAMP requirements.
Our solution for government agencies, CloudCheckr CMx Federal:
Streamlines the governance of complex cloud infrastructures

with more than 600 best practices checks for cost, resource utilization, security, and compliance, with button-click fixes

Ensures the highest standards for security and compliance

, with vulnerability scans, AI threat detection analysis, and compliance against 35 major regulatory standards, including NIST 800-53

Empowers public sector customers to get results immediately

through automated recommendations for budget management and activity monitoring, easing the ATO and other agency certification processes for public sector customers
You can find CloudCheckr on the FedRAMP Marketplace. Learn more about our FedRAMP-compliant solutions for the public sector by exploring CloudCheckr CMx Federal and reach out to us at fedramp@cloudcheckr.com.