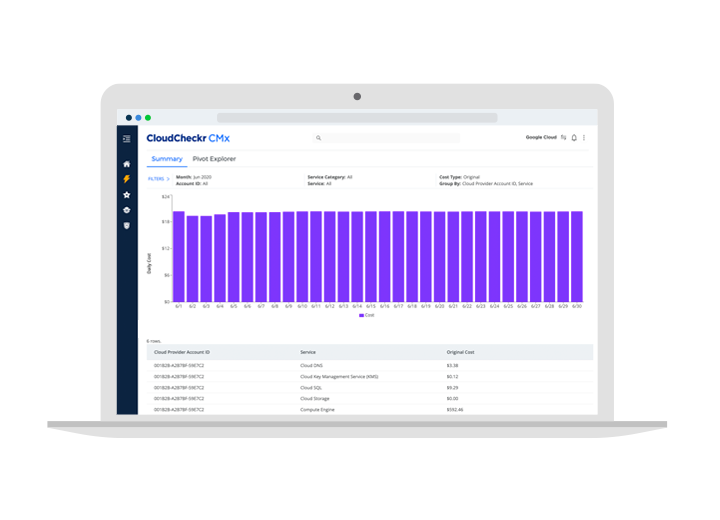 Google Cloud. Multi-Cloud. Managed.
CloudCheckr total visibility brings Google Cloud into view, alongside other cloud providers.
Active change monitoring keeps you secure in real-time. Our best practice checks for publicly accessible cloud storage buckets and buckets with sensitive names ensure you're following the shared responsibility model of cloud security.
Take control of Google Cloud expenses with Summary Reports and Dashboard views. Generate robust custom reports, including graphs, on-the-fly, using Pivot Explorer. Google Cloud inventory management includes summary reports for core services including compute, identity access management (IAM), and big data.
Advanced Cost Reporting
Analyze Google Cloud costs with integrated summary and dashboard views. Instantly and easily generate a wide variety of charts to identify trends and anomalies, using Pivot Explorer, a robust Business Intelligence tool built-in to CloudCheckr CMx.
Available Now—See Google Cloud Management in Action
Our experts have seen it all—from hundreds of siloed accounts to millions of dollars of resource waste. Reach out to request a live 30-minute Google Cloud management demo of CloudCheckr CMx. Learn why the largest enterprises, service providers, resellers, and government agencies trust CloudCheckr.
About CloudCheckr
Manage your entire cloud infrastructure—in one place.
We deliver total visibility—across multiple public clouds and hybrid workloads—making immediate cost savings achievable from the most complex cloud infrastructure. From government agencies to large enterprise and managed service providers, CloudCheckr customers deploy our SaaS solution, CloudCheckr CMx, to secure, manage, and govern the most sensitive environments in the world.
LEARN MORE