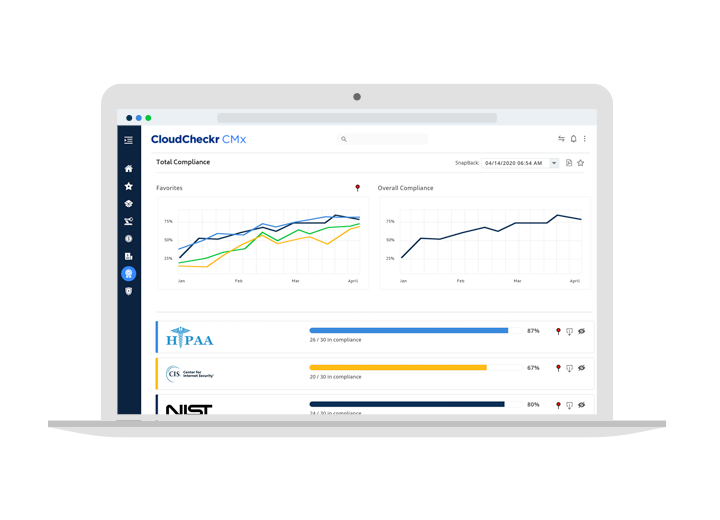 Achieve Cloud Security Compliance
CloudCheckr CMx High Security is built to the highest levels of security and supports 300 rigorous controls in 17 control families from NIST 800-53. Combined with AI-based threat detection and daily automated internal vulnerability scans, our commercial-grade cloud computing security management will accelerate your cloud adoption in financial services, healthcare, and other regulated industries. With emerging public cloud security challenges, get started with CMx High Security today to achieve cloud regulatory compliance, security compliance, and the optimal protection of your data.
Get Compliant. Stay Compliant.
Our High Security cloud compliant environment enables multi-region disaster recovery, running in two Availability Zones (two data centers) for a 15-minute Recovery Time Objective (RTO). Single faults such as database instance loss will failover to the alternate region in just moments. In the unlikely loss of an entire Availability Zone, the CloudCheckr CMx High Security environment will failover to the alternate, automatically. In a Multi-Region Disaster Recovery scenario, in the event both availability zones are lost, backups are maintained in a separate and distinct region.
Total Visibility in a Cloud Management Platform
With CloudCheckr CMx High Security, enterprises and service providers gain total visibility of their resource utilization, security configuration, compliance, and cloud spend in one application. Our cloud cost management solutions, designed with IT finance teams in mind, deliver automated invoicing, billing management, chargebacks, and budget recommendations across complex organizations.
Available Now—See Our Cloud Security Management in Action
Our experts have seen it all—from hundreds of siloed accounts to millions of dollars of resource waste. Reach out to request a live 30-minute demo of CloudCheckr CMx High Security. Learn why the largest enterprises, service providers, resellers, and government agencies trust CloudCheckr.
About CloudCheckr
Manage your entire cloud infrastructure—in one place.
We deliver total visibility—across multiple public clouds and hybrid workloads—making immediate cost savings achievable from the most complex cloud infrastructure. From government agencies to large enterprise and managed service providers, CloudCheckr customers deploy our SaaS solution, CloudCheckr CMx, to secure, manage, and govern the most sensitive environments in the world.
LEARN MORE